Q:
Is the edge binding for your bamboo blinds sewn or glued onto the woven wood shades?
A: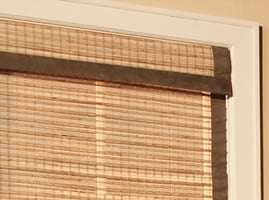 The fabric edge binding is sewn onto each of our bamboo shades. We highly recommend adding edge binding to woven wood shades. Not only does it dress up the blinds but the fabric encases the delicate edges of the bamboo and protects them. We even offer free edge binding on most of our bamboo shades!
At Blinds Chalet we carry one of the largest selection of fabric colors and choices for
bamboo blinds
and woven wood shades. Watch for our free promos such as free privacy or blackout liners. Because not all bamboo shades offer complete privacy, adding a liner to your shades solves this problem.
Buy
bamboo shades online
, get free shipping, do it yourself and save!
Bookmark/Share this page: