Q:
What is a Day and Night Shade and how does it work?
A: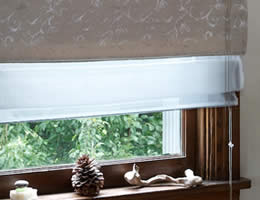 Day & Night Shades are essentially two separate shades in one. The shade offers both a translucent shade that allows filtered light to enter the room during the day as well as a second privacy shade. The privacy shade can either be a standard shade to just provide privacy or a blackout shade to give more light control.

Both the light filtering shade and the privacy shade have their own controls and can be operated independently of the other shade. If the privacy shade is raised with the translucent shade lowered, then filtered light may enter the room. If both shades are raised then the window is free of any obstruction. If the privacy shade is lowered the shade offers privacy and blocks light.

Currently we offer Day & Night Shades with a privacy shade as well as Blackout Day & Night Shades to block more light and darken the room.
1
answers