Q:
I want to install a skylight cellular blind. What is going to keep the blind from dropping down in the middle when it is open? Also, do you sell a pole to open and close the blind? The skylight I am working with is in a very high ceiling, with a rather steep slope.
A: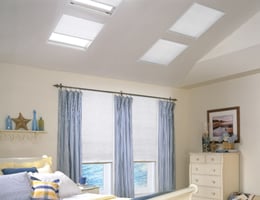 Skylight cellular blinds come with rails or tracks to keep the shades in place so they will not sag. The polycarbonate track system comes in a color coordinated color to match the bottom rail of the cellular shades. Made with a hidden gear track for smooth operation.

Online we only carry our pleated skylight shades but we also have skylight cellular shades available. Give us a call for pricing on your size and availability.

We do have an option for a 6 foot expandable pole and as well as a 12 foot expandable pole that may be used to open and close the skylight shades. This option is available with our pleated skylight shades.

Skylight shades are ideal for light control as well as added insulation to your skylight windows. Skylight windows are a large source off heat loss. Adding skylight cellular shades can greatly reduce energy loss. Buy your skylight shades today and save with free shipping.
1
answers