Q:
Can I just order a cornice? I received my blinds but I need another cornice.
A: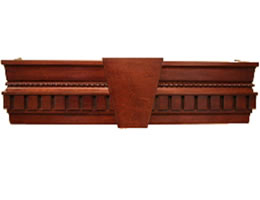 Yes, we offer real wood cornices that can be ordered separately. We also sell individual wood and faux wood valances which is what comes for free with each of our wood blinds and faux wood blinds. We offer our cornices online but our valances must be ordered over the phone to ensure proper ordering.

Cornices are larger and more decorative than the standard valance which comes with our blinds. Choose from either the more decorative Platinum Wood Cornice or the simpler Signature Wood Cornice. The Platinum Wood Cornice comes in various profiles or designs where the Signature Wood Cornice comes only in one profile option. Both cornices made from real wood and come in both paint as well as stain colors. The Platinum Wood Cornice offers several profiles to choose from.

Cornices are an excellent way to finish off virtually any window covering. Whether you are trying to cover a vertical blind, a roller shade or any other window treatment, cornices add a stylish look to your windows. Buy your cornices online from Blinds Chalet and save.
1
answers