Smart Weave 3% Screen Roller Shades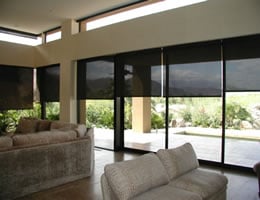 Bookmark/Share this product:
With a 3 percent openness factor, our Smart Weave 3% screen roller shades are perfect for light control in offices, restaurants, or anywhere you need to block UV rays. Screen shades are designed to allow some light to pass through them for glare reduction, heat control and energy savings.
Our smart weave fabric roller shade is built using the highest quality components for smooth operation and durability. Solar screen roller shades are made from sheer weave fabric and are not designed for complete privacy. Instead they are designed for light control only.
There are several great upgrades available for this 3% screen roller shade. Each screen roller shade comes with a visible roll. Upgrade to a decorative square aluminum valance or a matching fabric fascia. We also offer several motorization options, including the ability to control multiple shades at one time.

*Note: This product is currently experiencing a 5 week delay in production.
Instant Savings! Dont forget to enter coupon at checkout for the 50% Off Savings!







Due to the color variation between monitors we recommend ordering samples before placing your order if color is important.

This is a forum to ask product related questions that will be answered by our design consultants. If you have a question regarding an order or a customer service issue, please call us at (888) 633-7840 or use our
contact form
.
Approved questions and answers may take several days to appear on site but you will receive a quick response to your question.
Q:
Can theses be ceiling mounted. We have 1 1/2" metal bars separating the screens somthevis no place to attach except the ceiling.
Asked on Jun 8 2013 by Christine Cameron
A:
Yes, you can mount the blinds to the ceiling the mounting brackets that come with blinds give you an option to mount the blind from the top or from the side.
Q:
I am looking at the 3% smart weave screen roller shades. My question is that does this unit comes with the motorized or the remote control built?
Asked on Oct 26 2012 by Dr. Kadri
A:
The price that you see on this product is accurate for a standard operating shade. If you would like to upgrade to motorization it is and extra charge. You are able to and you will see that option and pricing on the Design and Order pay.
Q:
I have a large window looking out to the park on first floor in living room. I am looking top down on two side track without cord if possible to keep it organize for my corporate rental client During the day, we like to see light through 5%. However at night, we like to keep it privacy privacy. What are our option?
The window already frame out like door trim and it has a 4" depth. The window is one piece glass 96 inch wide by 60 in tall.
Please advice.
Asked on Jul 8 2012 by Wayne
A:
Sheer weave roller shades are made with screen fabric that allows light to pass through them. This allows you to see through the shades from the darker to the lighter side of the roller blinds. During the day time you will be able to see out without seeing in however at night others will be able to see in when your lights are on. The only option is to get a day night shade or a dual shade that has a screen roller shade as well as a privacy roller shade. We can custom order if you contact customer service.
Write a Review

Very good quality,love the look
Jan 17 2018
Measuring:
I measured my own blinds!
Installation:
I installed my own blinds!
Very good quality,love the look
Great Screen..does exactly what it was suppose to do.
Jul 24 2017
Measuring:
I measured my own blinds!
Installation:
I installed my own blinds!
Great Screen..does exactly what it was suppose to do. Good looking too!
The shades look wonderful.
May 2 2017
Measuring:
I measured my own blinds!
Installation:
I hired a professional installer.
The shades look wonderful. They are very slick and professional. My only complaint is that the blinds are charcoal and the screws that were sent are silver so they do not blend in with the rest of the item.
We are very pleased with our blinds from Blinds Chalet.
Apr 22 2017
Measuring:
I measured my own blinds!
Installation:
I installed my own blinds!
We are very pleased with our blinds from Blinds Chalet. The order arrived within a few days of placing order. We are pleased with look, value, and function of the blinds.
The shades are exactly what I wanted and expected.
Sep 27 2016
Measuring:
I measured my own blinds!
Installation:
I installed my own blinds!
The shades are exactly what I wanted and expected. They offer excellent heat control and light filter. They were built and shipped to me in a timely manner. The only problem I had, is when I got them the pull chain on three of the shades was installed improperly, and we had to fix that ourselves. One shade was done correctly. Overall I am very happy with the shades quality and performance.

Fabric Wrapped Fascia Valance
Available in 3" and 4" sizes, the fabric wrapped fascia valance is and aluminum extrusion wrapped in matching fabric to the roller shade. Designed to cover the front and bottom of the roller, the fabric wrapped fascia is available in standard roll only, reverse roll not an option.

Motorization
Make sure to order at least one remote to control your motorized shades. One remote can operate more than one shade. Raise and lower your window shades with the touch of a finger. Our remote controlled shades use a radio technology system. Cassette headrail upgrade is required for motorization on all roller shades.

Remote - 1 Channel
Control a single window shade or a group of window shades with one remote.

Remote - 4 Channel
Control 4 window shades or 4 groups of window shades on the same remote. Motorization option must be selected. Remote runs off alkaline batteries.

Square Aluminum Fascia Valance
3" and 4" square aluminum fascia is made from an "L" shaped aluminum extrusion, covering the bottom and front of the roller. Valance snaps into brackets and fittings concealing the roller.

Size varies based on the roller thickness or length of the shade. Available in standard roll only, not available in reverse roll.

Wall Switch - 2 Channel
Works just like a wall switch. Control up to 2 window shades or 2 groups of window shades. The switch is easy to install with a standard electrical box. No wiring is needed. Remote runs off battery.
Shipping
Each of our blinds and shades are custom made to your specifications. You can expect them to arrive approximately 2 to 2 1/2 weeks after ordering. Standard shipping is UPS or FedEx ground.
Product Specifications
Width:
12" - 96"
Height:
12" - 144"
Free Features

Lift Cord
The lift cord is used to raise and lower the blinds. This option allows you to select the position of the cord on the blinds.

Roll Type
Reverse roll feature is available at no extra charge with all roller shades. The reverse roll allows the fabric to roll off the front of the roller instead of off the back, which is standard. The reverse roll conceals the hardware system for a contemporary, tailored appearance.
Need Help Finding Something?
At Blinds Chalet we can special order just about any window covering even if it's not on our website.

Call us at (888) 633-7840
or