Good Housekeeping Woven Wood Shades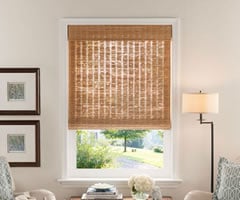 Bookmark/Share this product:

The Good Housekeeping woven wood shades are backed by the Good Housekeeping seal so you can shop with confidence and know you are buying quality bamboo shades.
Each of our Good Housekeeping bamboo woven wood shades comes standard as a flat fold roman shade or upgrade to a hobbled style fold for more fullness and style.
Shop from a wide selection of woven wood bamboo fabrics. Upgrade with a decorative edge binding or a liner for added privacy and light control.
Instant Savings! Dont forget to enter coupon at checkout for the 45% Off Savings !






This is a forum to ask product related questions that will be answered by our design consultants. If you have a question regarding an order or a customer service issue, please call us at (888) 633-7840 or use our
contact form
.
Approved questions and answers may take several days to appear on site but you will receive a quick response to your question.
Write a Review

Great product!
Jan 2 2015
Measuring:
I measured my own blinds!
Installation:
I installed my own blinds!
Great product! Excellent quality and service with blind chalet was unbeatable! We are so happy. We will use them for the remaining windows in our home!
Beautiful product.
Dec 11 2014
Measuring:
I measured my own blinds!
Installation:
I installed my own blinds!
Beautiful product. They work very well and they are even more attractive in person than in pictures. Wonderful price for such a high-taste-level design. Blinds Chalet was wonderful to work with. Their instructions in ordering were thorough and I felt confident placing my order. They were responsive and sent many samples so that I could be certain about my order.
My comment is really about Nancy Durkee.
Oct 21 2013
Measuring:
I measured my own blinds!
Installation:
I hired a professional installer.
My comment is really about Nancy Durkee. She is fabulous! I love this product but needed some more for a job installing this week and she has helped me expedite the order and her help was invaluable!!

Edge Binding
Edge Binding are cloth tapes that are wrapped on the edge of the shades to help prevent fraying as well as adding an elegant look to the shades. Our standard edge binding is 1 1/4" wide with approximately 1/2" of fabric showing on each side of the shades.

Blackout Liner
Add additional privacy and block the light by adding this upgrade to your shades.
Our standard blackout liners offered in white.

Continuous Cord Loop
Designed for easier lifting of those larger blinds. This upgrade has a looping lift cord rather than the standard single cord lift. On smaller shades, minimum cord length is 24 inches.

Cordless Lift
Raise and lower your blinds without cords. This upgrade is great for homes with children because there are no dangerous lift cords. Not recommended for sizes wider than 96 inches.

Doufold/Top Down Bottom Up
The Duofold or Top Down Bottom Up upgrade is designed to maintain privacy while still allowing an outside view. Duofold allows the shades to be either lowered from the top down or raised from the bottom up.

Hobbled Style
The hobbled roman shade upgrade adds extra fabric to each panel of the the roman shade. This gives the panels a tear drop shade rather than the flat panel look of a classic roman shade.

Privacy Liner
Add additional privacy and light blockage to your shades by adding this upgrade to your shades.
If no option is given, the default color is a white privacy liner when this upgrade is selected.
Shipping
Each of our blinds and shades are custom made to your specifications. You can expect them to arrive approximately 2 to 2 1/2 weeks after ordering. Standard shipping is UPS or FedEx ground.
Product Specifications
Width:
12" - 120"
Height:
12" - 108"
Free Features

Lift Cord
The lift cord is used to raise and lower the blinds. This option allows you to select the position of the cord on the blinds.
Need Help Finding Something?
At Blinds Chalet we can special order just about any window covering even if it's not on our website.

Call us at (888) 633-7840
or