Tavarua Exotic Bamboo Sliding Panels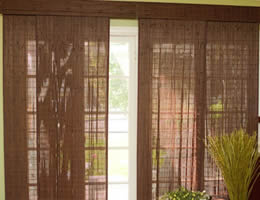 Bookmark/Share this product:
Our natural, wild grown bamboo sliding window panels are a great alternative to traditional vertical blinds. With a wide selection of woven wood styles and colors to choose from, our bamboo panel track blinds are the perfect choice. Choose your bamboo window panels from the same colors you will find in our Tavarua bamboo shades.

Each of our bamboo sliding window panels come with free edge binding and a matching bamboo valance. Upgrade any of our bamboo panel track blinds with a privacy or blackout liner for more light control and privacy.

Note: Panels are approximately 22" - 28" wide. This means there will be a stack of panels on each side which they draw to. You will need to add additional width and use outside mount if you do not want to block any of the view through the window. Mounting depth will vary based on window size. Please see Features & Specs for complete mounting depths and panel configuration. If you ordered a sliding panel wider than 94 inches, the track will have been supplied to you in two pieces, with a splicing piece to join the two halves.

Due to the nature of natural bamboo shades, each panel may expand differently and be slightly various heights.
Product Out Of Stock






This is a forum to ask product related questions that will be answered by our design consultants. If you have a question regarding an order or a customer service issue, please call us at (888) 633-7840 or use our
contact form
.
Approved questions and answers may take several days to appear on site but you will receive a quick response to your question.
Q:
Can these be mounted on the ceiling?
Asked on Oct 17 2012 by Kelley Carrin
A:
yes, the system is just like a vertical track. So, you can install them on the ceiling.
Q:
Can I choose the binding color? I do not prefer the red shown in the pictures.
Asked on Sep 29 2012 by Katie Rutherfurd
A:
Yes you can select the edge binding from any of the colors listed. The red edge binding pictured is just an example.
Write a Review

The panels are so beautiful.
Nov 3 2012
Measuring:
I measured my own blinds!
Installation:
I installed my own blinds!
The panels are so beautiful. The variance of the colors throughout the panels blended perfectly with the decor of the room. If the colors had been solid, it would have been overwhelming for my 15X15 living room.

Edge Binding
Edge Binding are cloth tapes that are wrapped on the edge of the shades to help prevent fraying as well as adding an elegant look to the shades. Our standard edge binding is 1 1/4" wide with approximately 1/2" of fabric showing on each side of the shades.

Blackout Liner
Add additional privacy and block the light by adding this upgrade to your shades.
Our standard blackout liners offered in white.

Privacy Liner
Add additional privacy and light blockage to your shades by adding this upgrade to your shades.
If no option is given, the default color is a white privacy liner when this upgrade is selected.
Shipping
Each of our blinds and shades are custom made to your specifications. You can expect them to arrive approximately 2 to 2 1/2 weeks after ordering. Standard shipping is UPS or FedEx ground.
Product Specifications
Width:
48" - 144"
Height:
20" - 96"
Free Features

Liner Color
Fabric color on either a blackout or a privacy liner. Liners are designed for privacy as well as light control. Liners are white towards the window side of the shades with the color selected towards the interior of the home.

Draw Position
Select the side of the blind for the draw control location. The draw control is used to open and close the blinds.

For a cord control, the draw position will be on the same side where the blinds stack. For a wand control, the draw position will be on the opposite side of where the blinds stack.
Panel Track Configuration
Panel Configuration
Track Type
Track Width
48"-84"
One Way
3 Panels
3 Channels
2"
Center Open
4 Panels
4 Channels
2 3/4"
84 1/4"-120"
One Way
4 Panels
4 Channels
2 3/4"
Center Open
4 Panels
4 Channels
2 3/4"
120 1/4"-144"
One Way
5 Panels
5 Channels
3 3/8"
Center Open
6 Panels
3 Channels
2"
Mounting Depths for Inside Mount
| | | | |
| --- | --- | --- | --- |
| | 3 Track | 4 Track | 5 Track |
| Minimum | 2" | 2 3/4" | 3 3/8" |
| Flush Mount | 2 1/2" | 3 1/4" | 3 7/8" |
Need Help Finding Something?
At Blinds Chalet we can special order just about any window covering even if it's not on our website.

Call us at (888) 633-7840
or