Motorized Bamboo Woven Wood Shades
* Production lead times are only an estimate and does not apply to any colors that are out of stock. Production begins the following business day after ordering. Please allow additional time for shipping.
Bamboo woven wood shades have become the go to window treatment for interior designers. Made from natural materials, woven wood shades come in a variety of colors, patterns and textures. Customers love the look and feel of their bamboo shades. They have been asking for a way to integrate these elegant shades into their home automation systems and now that is possible.


Smart Home Motorized Bamboo Woven Wood Shades - Work With Alexa, Google Home, and Apple Home Kit

We now have two bamboo shade products with the upgrade option for motorization. These motorized woven wood shades can be operated with a remote or using your smart phone if you purchase the smart home hub. A single remote or a single smart home hub can operate up to 20 motorized bamboo woven wood shades. We also offer a 5 channel remote which can operate multiple shades. We recommend the 5 channel remote if you will be operating bamboo shades that are multiple lengths. The bamboo motorized shades application can be downloaded from the Apple Apps Store or the Google Play Store. Each one of these motorized woven wood shades are compatible with Amazon Alexa, Google Home, and Apple Home Kit.


Motorized Bamboo Woven Wood Shades With Rechargeable Batteries

Our motorized bamboo woven wood shades are manufactured with a rechargeable lithium-ion battery that is placed in the headrail. These batteries allow approximately five hundred operations per charge. To charge the battery simply plugin the provided wall charger and allow the batteries to charge for several hours.


Motorized Bamboo Woven Wood Shades With Wand Control

We also offer simple wand motorization with is a low cost option for child safety. With the simple press of a button you can raise and lower your shade. Releasing the button at your desired position will stop the shade. Our wand motorization operates with a rechargeable battery powered motor and is charged with a mini USB power adapter. These batteries allow approximately five hundred operations per charge.

We are confident you will find the perfect bamboo woven wood shade for your home at blindschalet.com

Below is a list of the blinds and shades that are available with the "Motorized" upgrade. You must select the upgrade when you add the item to your cart. Additional fees will apply for the upgrade.

Optional Upgrades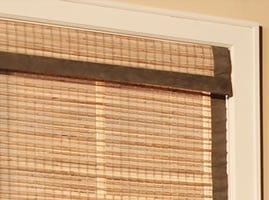 4 inch Edge Binding in Pecan
Fabric Edge Binding
We strongly recommend adding edge binding to any woven wood shade. Not only does edge binding add color and style to the shades, it protects the delicate edges of the bamboo from splintering, catching, or breaking.
Edge binding comes in either varied fabric widths between 1 inch and 4 inches. See individual products for details. Since the fabric is wrapped around the edges of the woven wood shades, less than half of the fabric width is visible on the front of the shades.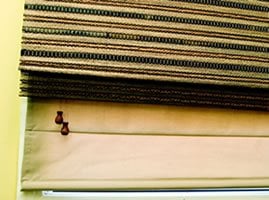 Tavarua Exotic Woven Wood Shades
- Harmony Spice
Privacy & Blackout Liners
Because woven wood shades allow some light to enter through each of the woven bamboo fibers, adding a privacy or a blackout liner is recommended. This adds both privacy and light control to the bamboo shades. Liners can either be attached to the bamboo shade or movable liners with their own separate lift cord. Moveable liners can be raised during the day while the shade is lowered to allow filtered light in the room.
The liners on our Tavarua Woven Wood Shades are made from a thicker fabric while our other woven wood shades offer a thinner polyester liner.
Privacy Liners: Create privacy but allow some light to enter the room.
Blackout Liners: Block all light from passing through the shades as well as provide privacy. Minimal light may pass between the shade and the window frame.
Moveable Roman Liner: Adds the ability to raise and lower the liner separately from the bamboo shade. Lift control will for the liner will be on the opposite side of the shades.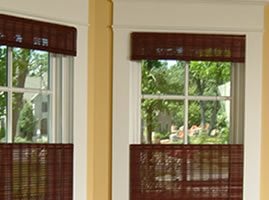 Tavarua Woven Wood Shades
- Aurora Cherry
Top Down Bottom Up - Doufold
The top down bottom up feature allows the bamboo shades to be raised as traditional shades but they may also be lowered from the top down. This allows light to enter the room and a view outside while providing more privacy than with the shades raised.
Things to consider:
Top down bottom up comes with 2 lift cords, one on each side of the shade. One to raise the shades and the other to lower them. When the shades are lowered from the top down the cords that suspend the shade will be visible.
Rollease/Continuous Cord
The rollease or continuous cord loop upgrade is a clutch mechanism and a continuous pull that makes it easier to lift larger shades.