Sorry, we do not currently have any Cordless Top Down Bottom Up Roman Shades available at this time. Please check back soon!


* Production lead times are only an estimate and does not apply to any colors that are out of stock. Production begins the following business day after ordering. Please allow additional time for shipping.



New! Now available, Cordless Top Down Bottom Up Roman Shades!

Add both the 'Cordless' and the 'Top Down Bottom Up' or 'Duofold' options to any of the following roman shades. Add the privacy of a Top Down Bottom Up option as well as the function of a cordless roman shade.

Below is a list of the blinds and shades that are available with the "Cordless TDBU" upgrade. You must select the upgrade when you add the item to your cart. Additional fees will apply for the upgrade.






Optional Upgrades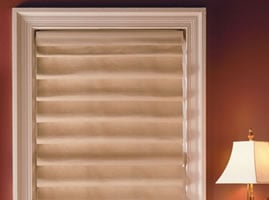 Hobbled Fold Roman Shades
Hobbled Fold/Tear Drop
The hobbled or tear drop fold roman shades offer additional material between each panel of the roman shades for a fuller, richer look.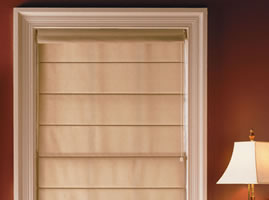 Flat Fold Roman Shades
Flat Fold
The flat fold roman shades offer a more contemporary look with the fabric pulled tight between each of the panels.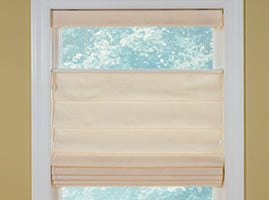 Top Down Bottom Up Roman Shades
Top Down Bottom Up/Duofold
The doufold or top down bottom up system allows the roman shades to be both raised from the bottom up as well as lowered from the top down. This upgrade allows sunlight in while not completetly blocking the view.
Things to Consider:
Because the shades are suspended when they are lowered from the top down the cords will be visible when the shade is in this position. Also there is a lift cord on each side of the roman shade. One to lower the shades and the other to raise it.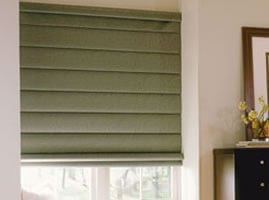 Cordless Lift Roman Shades
Cordless Lift
Cordless roman shades are designed so the shades may be raised and lowered without the use of a lift cord. Perfect when no visible cords are desired.
Things to Consider:
Reaching the roman shades to completely raise them may be dificult. With taller windows you will need to reach the top of the window because there are no cords.



Rollease/Continuous Cord
The rollease upgrade is designed for ease of operation on larger roman shades. Because larger shades can be heavy the continuous cord loop make is easier to raise and lower the shades.