Cordless TDBU HoneyComb Cellular Shades
* Production lead times are only an estimate and does not apply to any colors that are out of stock. Production begins the following business day after ordering. Please allow additional time for shipping.
Add both 'Cordless' and 'Top Down-Bottom Up' to any of the honeycomb cell shades below. Get the function of a top down bottom up cell shade and the benefits of a cordless honeycomb in the same window shade. To make your cordless top down bottom up cell shade simply select both upgrades when adding your shade to the shopping cart.

Below is a list of the blinds and shades that are available with the "Cordless TDBU" upgrade. You must select the upgrade when you add the item to your cart. Additional fees will apply for the upgrade.
Optional Upgrades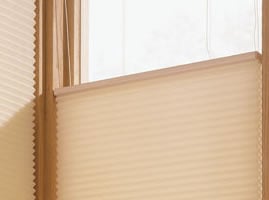 Top Down Bottom Up Honeycomb Shades
Top Down Bottom Up/Duofold
With the top down bottom up or duofold upgrade, the cell shades may be both raised as traditional shades or lowered from the top down. This gives the shades a unique advantage, allowing light into the room and not completely blocking the view whil still offering partial privacy.
Things to Consider:
With top down bottom up the shades will have 2 lift cords. One to raise the shades and a second cord on the opposite of the shades to lower them. When the shades are lowered, there will be visible cords suspending the shades from the top of the window.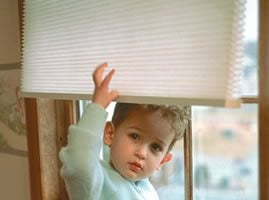 Cordless Lift Cellular Shades
Cordless Lift
By removing the lift cords on the cell shade and a spring mechanism within the headrail, the honeycomb shades may be raised and lowered by use of the bottom rail. Cordless shades are designed with saftey in mind because cords on window coverings can be a danger.
Things to Consider:
Since there are no lift cords, reaching the shades on taller windows may be a challenge.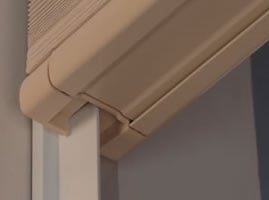 ComforTrack Plus Energy System
ComforTrack Plus Energy System
Designed with insulation in mind, these unique cell shades offer an added layer of insulation. Between each side of the shades and the window frame is a track barrier sealing the edges of the shades. Save on your energy bills up to five times to that of a single pane window.
Rollease/Continuous Cord
The rollease or continuous cord loop lift is designed for raising and lowering larger window shades. The lift cord forms a "loop" as it circles back inside the headrail.