Cordless HoneyComb Cellular Shades
* Production lead times are only an estimate and does not apply to any colors that are out of stock. Production begins the following business day after ordering. Please allow additional time for shipping.
Worried about Child safety? Need an easy to use shade without those un-attractive lift cords? Buy any of our honeycomb cell shades and upgrade with a Cordless Lift.

Did you know?
Many of our cell shades can be 'cordless' and 'top down bottom up'. Simply select both upgrades when adding your cell shades to the shopping cart.

Below is a list of the blinds and shades that are available with the "Cordless" upgrade. You must select the upgrade when you add the item to your cart. Additional fees will apply for the upgrade.
Optional Upgrades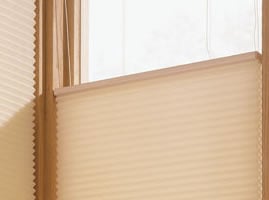 Top Down Bottom Up Honeycomb Shades
Top Down Bottom Up/Duofold
With the top down bottom up or duofold upgrade, the cell shades may be both raised as traditional shades or lowered from the top down. This gives the shades a unique advantage, allowing light into the room and not completely blocking the view whil still offering partial privacy.
Things to Consider:
With top down bottom up the shades will have 2 lift cords. One to raise the shades and a second cord on the opposite of the shades to lower them. When the shades are lowered, there will be visible cords suspending the shades from the top of the window.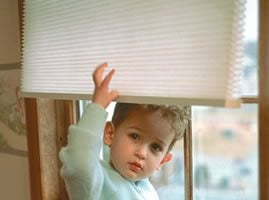 Cordless Lift Cellular Shades
Cordless Lift
By removing the lift cords on the cell shade and a spring mechanism within the headrail, the honeycomb shades may be raised and lowered by use of the bottom rail. Cordless shades are designed with saftey in mind because cords on window coverings can be a danger.
Things to Consider:
Since there are no lift cords, reaching the shades on taller windows may be a challenge.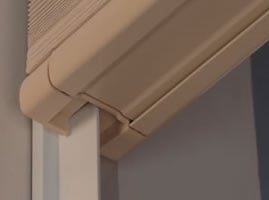 ComforTrack Plus Energy System
ComforTrack Plus Energy System
Designed with insulation in mind, these unique cell shades offer an added layer of insulation. Between each side of the shades and the window frame is a track barrier sealing the edges of the shades. Save on your energy bills up to five times to that of a single pane window.
Rollease/Continuous Cord
The rollease or continuous cord loop lift is designed for raising and lowering larger window shades. The lift cord forms a "loop" as it circles back inside the headrail.
Commonly Asked Questions About Cordless Blinds & Shades
Q:
How to convert cordless blinds?
A:
Unfortunately most blinds are not able to be converted to cordless. Due to the style of headrail and the different mechanisms it is not something that can be swapped out. We would be happy to help you find new cordless products to suit your needs.
Q:
What is a cordless window blinds?
A:
A cordless window blind is a blind that is raised and lowered by hand. They are an excellent option for child safety because there are no cords hanging in the window.
Q:
How to work or operate cordless blinds
A:
Most cordless blinds can be raised and lowered with your hand. You push up on the bottom rail to raise it and pull on it to lower it. Typically they will have a wand to tilt the blinds back and forth.
Q:
How to lift or raise cordless blinds
A:
In order to raise your cordless blinds, you simply take your hand and push up on the bottom rail. Sometimes they will have a button that you push and hold while raising it as well. In order to lower it, you would pull the bottom rail and/or hold down the button while lowering it.
Q:
How do cordless blinds work?
A:
Cordless blinds operate without lift cords. They are simply pushed up on the bottom rail with your hand to raise them. You then pull the blinds down by hand to lower them.
Q:
How to close cordless blinds
A:
Closing cordless horizontal blinds are easy. Since they do not use cords to raise and lower, all you have to do is grab the bottom rail and pull the blind down to the bottom of your window. It is that simple.
Q:
How to pull down cordless blinds without strings
A:
With a cordless horizontal blind, you do not have strings to raise and lower them. You use the bottom rail to pull the blinds down. You also use the bottom rail to push the blinds up. The cordless upgrade is a great feature if you have children or pets.
Q:
How to raise up cordless blinds
A:
To raise a cordless horizontal blind, you use the bottom rail to push the blind up. It is that simple to use. You are also able to control the position that you want them to stop at. You can have them all the way up, all the way down or anywhere in between.
Q:
How do I "unjam" my cordless blind?
A:
Lifting and lowering the blind evenly with one hand on each side (keeping the blind level regardless of if they start out off center) a few times can easily fix the issue.
Q:
How much do cordless blinds cost?
A:
The costs can very from product to product, but are pretty close to the price for corded blinds. Especially if they are custome made. Faux wood and aluminum mini blinds tend to be the less expensive option. Buying online tends to be less expensive.
Q:
Are cordless blinds better than corded?
A:
Cordless shades are safer then corded shades. This is something you may prefer for safety of children, and pets. Customers often prefer the look of cordless shades since there are less cords visible.