Cordless Wood Blinds
Retail: $156.89
FREE shipping

Rated 5.0/5
Retail: $80.00
FREE shipping

Rated 5.0/5
Retail: $175.00
FREE shipping

Rated 5.0/5
* Production lead times are only an estimate and does not apply to any colors that are out of stock. Production begins the following business day after ordering. Please allow additional time for shipping.
Shop our cordless wood blinds, some of which come standard with a cordless lift and others you must select the cordless upgrade. Cordless wooden blinds are more child and pet friendly than other wood blinds. Simply raise and lower the venetian wood blinds by pushing up or pulling down on the bottom rail. Browse our selection of cordless wooden blinds below.

Below is a list of the blinds and shades that are available with the "Cordless" upgrade. You must select the upgrade when you add the item to your cart. Additional fees will apply for the upgrade.
Optional Upgrades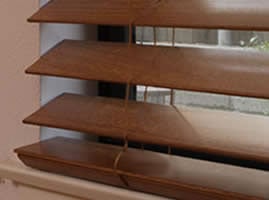 Routless Ladders - No Holes Privacy
Routless Ladders - No Holes Privacy
Routless ladders are designed so there are no holes in the center of each blind slat. This adds additional privacy and blocks more light than traditional wood blinds.
Things to Consider:
Because routless ladders do not have a routed hold and a cord running through each slat, the slats may be removed for cleaning. This also means the slats may shift and are not recommended for outside mounts or in areas reachable by children or pets.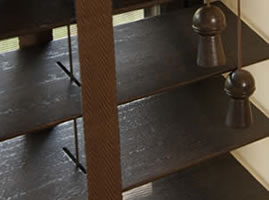 Decorative Fabric Tapes
Decorative Fabric Tapes
Decorative tapes add a fabric ladder that covers the routed holes in each blind slat. Not only do the fabric tapes add additional privacy and light blockage, they add color to accent any decor. Decorative tapes come in wide range of colors and styles.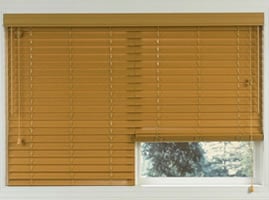 2 on 1 headrail
2 on 1 headrail / 3 on 1 headrail
Larger window blinds become heavy and harder to lift. By having multiple blinds sharing a common headrail, each blind will come with its own controls and will operate independantly from the other blind(s).
Things to consider:
Because there must be a slight gap between each blind, consider the light and privacy issues. Align the gaps between the blinds with the divider rails in the windows.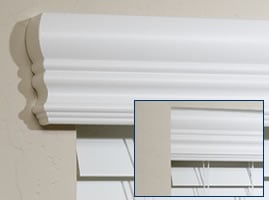 "Cornice Style" Valance vs Standard Crown Valance
Cornice Style Valance
Each of our real wood blinds standard with free valance. Most are crown molding although some are a different contour such as our signature wood blinds. We also offer on some of our wood blinds an optional "cornice style" valance. The cornice valance is a crown molding valance that sits outside the window frameon inside mount blinds. The cornice valance extends about 1 inch past on each side of the window frame. The cornice valance also has sides or returns to create a cornice look to the crown molding valance.
Things to consider:
Because the cornice style valance sits outside the window frame you need to consider any obstructions such as casing around the window or cabinets, etc. that might be in the way of the valance.
Commonly Asked Questions About Cordless Blinds & Shades
Q:
How to convert cordless blinds?
A:
Unfortunately most blinds are not able to be converted to cordless. Due to the style of headrail and the different mechanisms it is not something that can be swapped out. We would be happy to help you find new cordless products to suit your needs.
Q:
What is a cordless window blinds?
A:
A cordless window blind is a blind that is raised and lowered by hand. They are an excellent option for child safety because there are no cords hanging in the window.
Q:
How to work or operate cordless blinds
A:
Most cordless blinds can be raised and lowered with your hand. You push up on the bottom rail to raise it and pull on it to lower it. Typically they will have a wand to tilt the blinds back and forth.
Q:
How to lift or raise cordless blinds
A:
In order to raise your cordless blinds, you simply take your hand and push up on the bottom rail. Sometimes they will have a button that you push and hold while raising it as well. In order to lower it, you would pull the bottom rail and/or hold down the button while lowering it.
Q:
How do cordless blinds work?
A:
Cordless blinds operate without lift cords. They are simply pushed up on the bottom rail with your hand to raise them. You then pull the blinds down by hand to lower them.
Q:
How to close cordless blinds
A:
Closing cordless horizontal blinds are easy. Since they do not use cords to raise and lower, all you have to do is grab the bottom rail and pull the blind down to the bottom of your window. It is that simple.
Q:
How to pull down cordless blinds without strings
A:
With a cordless horizontal blind, you do not have strings to raise and lower them. You use the bottom rail to pull the blinds down. You also use the bottom rail to push the blinds up. The cordless upgrade is a great feature if you have children or pets.
Q:
How to raise up cordless blinds
A:
To raise a cordless horizontal blind, you use the bottom rail to push the blind up. It is that simple to use. You are also able to control the position that you want them to stop at. You can have them all the way up, all the way down or anywhere in between.
Q:
How do I "unjam" my cordless blind?
A:
Lifting and lowering the blind evenly with one hand on each side (keeping the blind level regardless of if they start out off center) a few times can easily fix the issue.
Q:
How much do cordless blinds cost?
A:
The costs can very from product to product, but are pretty close to the price for corded blinds. Especially if they are custome made. Faux wood and aluminum mini blinds tend to be the less expensive option. Buying online tends to be less expensive.
Q:
Are cordless blinds better than corded?
A:
Cordless shades are safer then corded shades. This is something you may prefer for safety of children, and pets. Customers often prefer the look of cordless shades since there are less cords visible.