Sale expired!
Sale ran Jan 18 2013
through Jan 21 2013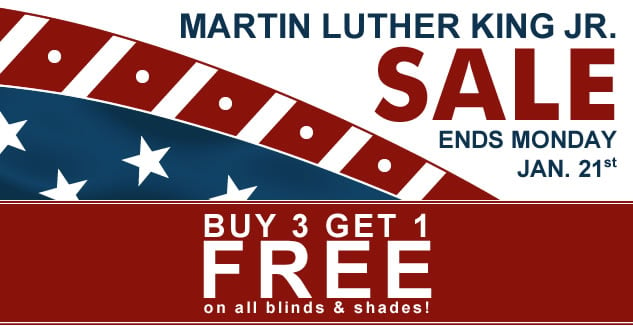 In 1986 the U.S. government established Martin Luther King, Jr. Day as an official U.S. federal holiday. Martin Luther King, Jr. was a prominent leader in the Civil Rights Movement and a Baptist Minister. Early in his career he became a prominent civil rights activist and even went on to win a Nobel Peace Prize in 1964. Many streets in states all across the United States of America have been named after him.
At Blinds Chalet we always try to honor those whom have had a positive impact on the history of the United States. This year we are offering Buy 3 Get 1 Free on all blinds and shades over this holiday weekend. All of our window treatments are backedby our lifetime guarantee. If you order from us you will also receive free shipping and pay no sales tax. Enjoy this holiday weekend with your family and enjoy the products your order from Blinds Chalet.