QUICK SHIP - 2" Faux Wood Blinds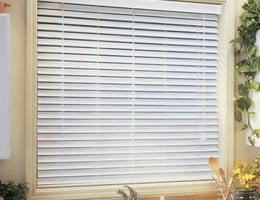 Bookmark/Share this product:
One of our most popular faux wood blind products! Blinds Chalet Quick Ship faux wood blinds are the fastest way for you to affordably cover your windows. Our quick ship window blinds are custom made to the size, color and dimensions of your window. Built with the highest quality components this vinyl blind comes with a low profile steel headrail offering increased durability and preventing your blind from sagging overtime. This low profile steel headrail is a very important feature since most big box retails stores do not offer it in their faux wood blinds. The cornice style valance that covers this steel head rail is absolutely beautiful and will add a unique look to your window. The trapezoid bottom rail design makes tilt operation a breeze, no more struggling to open your blinds. With all of these important features it is easy to see why this is one of our most popular faux wood products.
There are many classic colors available for this wood alternative blind. Choose any embossed colors, such as cherry, oak and chestnut, and get the look of wood without staining or fading. This blind offers you the classic look of wood but the water resistance of vinyl, so they can be used anywhere in your home, even in kitchens and bathrooms. Other colors include four assortments of white and classic wood colors like oak. Make sure to order free samples and compare the colors with your home décor to find the perfect look for your windows.


Installing our quick ship faux wood blinds are incredibly easy. Most window sizes only require the breezy installation of two brackets. Wider windows require three brackets. However, thousands of customers have been able to easily install these blinds themselves. To view the installation instructions for this particular faux wood blind please click on the "how to install" link to the right below the product image.

All of our window treatment products are held to the highest standard and our quick ship faux wood blind are no different. During testing, this product was exposed to more than 400 hours of intense UV exposure with minimal fading. This means that regardless of what kind of environment you live in, these blinds will hold up to direct exposure from the sun.

Complete with our beautiful upgraded 3¼ inch Crown Valance that offers a designer look without the designer price. This product is lead free and comes with everything that you need to install them, you can't go wrong. If you have any additional questions at all about this product, don't hesitate to ask one of our design consultants by clicking on our live chat button or calling us at 888-633-7840.
Blinds under 17" have a center cord tilt only
Instant Savings! Dont forget to enter coupon at checkout for the 45% Off Savings!







Due to the color variation between monitors we recommend ordering samples before placing your order if color is important.

This is a forum to ask product related questions that will be answered by our design consultants. If you have a question regarding an order or a customer service issue, please call us at (888) 633-7840 or use our
contact form
.
Approved questions and answers may take several days to appear on site but you will receive a quick response to your question.
Q:
Is there a 3-in-1 rail top option for this blind?
Asked on Sep 21 2013 by Mya Lane
A:
I am sorry to inform you, that this product does not have an option to do a 3 on 1 head rail. You can order 3 separate blinds, and do a common valance across the top? You will have to call in your order so we can put notes in the order for this option.
Q:
Can these blinds be mounted from the sides of the window or only the top?
Asked on Jul 1 2013 by Kelly - kellyleuden84@gmail.com
A:
These blinds can be mounted from the sides.
Q:
Are these blinds room darkening blinds?
Asked on Jun 3 2013 by Nancy Unruh
A:
They will help control the light, but light can still come in.
Q:
Do the Quick Ship 2" blinds have a metal headrail?
Asked on Oct 12 2012 by Dennis McIntyre
A:
Yes, they come with a metal headrail.
Q:
Do the 2" Quick Ship Faux Wood Blinds have a cord tilt or a wand tilt?
Asked on Sep 21 2012 by Judy
A:
The Quick Ship 2" Faux Wood Blinds come standard with the cord tilt.
Q:
What are the dimensions of the mounts? We had new windows put in and there is less room now around the frame.
Asked on Sep 16 2012 by Shari
A:
The box bracket measures approximately 2" x 2 1/4". If you would like to hang your 2" faux wood blind inside your window opening you will need 1 1/4" minimum mounting depth, and for a flush mount you will need 3".
Q:
Can these blinds be raised and lowered or only tilted?
Asked on Sep 4 2012 by Lindsay Bailey
A:
Our faux wood blinds can be raised, lowered, and tilted open and closed, unless they are under 13" wide. Blinds under 13" wide will tilt open and closed only, and not raise and lower. Due to the size of the headrail, they cannot fit the tilting and lifting mechanisms inside the headrail.
Q:
Do these blinds yelllow over time?
Asked on Aug 6 2012 by Mary Kendall
A:
No they are made from PVC material with UV inhibitors to keep them from yellowing and warping in the heat.
Q:
How fast is fast? Will we get our order this week?
Asked on Jul 29 2012 by Kingsley Egorerua
A:
The Quick Ship 2" Faux Wood blinds takes about 2 to 5 days production time, and ship from California. It all depends on where you are located as shipping times vary from 1 to 5 days.
Q:
What is the actual faux wood material makeup of the blinds?
Asked on Jul 20 2012 by Joan
A:
A fauxwood blind is made of PVC or vinyl that is extruded.
Write a Review

I was skeptical about ordering these blinds because the price was too good to be true.
Apr 10 2018
Measuring:
I measured my own blinds!
Installation:
I installed my own blinds!
I was skeptical about ordering these blinds because the price was too good to be true. I thought the quality would be mediocre. However, upon receiving my order of 4 blinds, they were 1. Packed perfectly and safely, 2. All parts and instructions were included, 3. The quality of the blinds were above & beyond my expectation. Very sturdy and the color was perfect (just as detailed). I would definitely order them again.
I love them
Apr 8 2018
Measuring:
I measured my own blinds!
Installation:
I installed my own blinds!
I love them
Very nice blinds .
Apr 7 2018
Measuring:
I measured my own blinds!
Installation:
I installed my own blinds!
Very nice blinds . Really made a nice change for my bedroom. Easy to install and cut to order at a very reasoble price
I LOVE these blinds!
Mar 25 2018
Measuring:
I measured my own blinds!
Installation:
I installed my own blinds!
I LOVE these blinds! Five years ago I bought these for our daylight basement. I was so impressed with the quality and ease of installation. They look amazing and make the house look sharp and modern - inside and out! I ordered more for windows in the front of our house. I should have done this update years ago because they look terrific and the price was excellent. Thank you!!!
LOVED THEM!
Mar 24 2018
Measuring:
I measured my own blinds!
Installation:
I installed my own blinds!
LOVED THEM! WENT UP QUICK. DID NOT HAVE TO MESS WITH MAKING
THEM SHORTER. THIS COMPANY WAS EFFICIENT,POLITE,QUICK. THANK YOU.
This product has no upgrades available.
Shipping
Each of our blinds and shades are custom made to your specifications. You can expect them to arrive approximately 2 to 2 1/2 weeks after ordering. Standard shipping is UPS or FedEx ground.
Product Specifications
Width:
10" - 96"
Minimum Mounting Depth:
0.75"
Height:
12" - 72"
Minimum Flush Mounting Depth:
3.25"
Headrail Dimension:
2" x 2.25"
Return length w/ Cornice Valance:
1.25"(inside mount)
3.25"(outside mount)
Free Features

Cornice Style Valance
Valance returns create a "cornice" style valance. Inside mount valance returns are shorter than outside mount returns and extend about 1/2 to 1 inch past the window frame on each side. The cornice valance offer a more elegant look than no returns. A valance on an inside mount blind will be mounted outside the window frame while the blinds remain inside the window frame. Not recommended with windows that have moulding.
Note: Blind must be mount to the front of the window frame opening.
Need Help Finding Something?
At Blinds Chalet we can special order just about any window covering even if it's not on our website.

Call us at (888) 633-7840
or