Light Filtering Roman Shades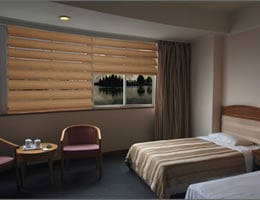 Bookmark/Share this product:
The only roman shade on the market that allows you to "see through" the shade like a wood blind! The fantasy fold option allows you to open and close your shade slats as well as pull it all the way up. Made of durable high quality fabric, it is easy to clean and maintain for years!
Optional pleats available
Optional upgrade to fantasy fold for more light and air circulation options!!
available in many colors!
Limited lifetime warranty
Highest quality roman shades on the market today
You wont find this unique Roman shades anywhere else!
Product Out Of Stock






This is a forum to ask product related questions that will be answered by our design consultants. If you have a question regarding an order or a customer service issue, please call us at (888) 633-7840 or use our
contact form
.
Approved questions and answers may take several days to appear on site but you will receive a quick response to your question.
Write a Review

I absolutely love my Roman shade, best ever seen.
Mar 9 2009
Measuring:
I measured my own blinds!
Installation:
I installed my own blinds!
I absolutely love my Roman shade, best ever seen.

Fantasy Fold
Separate each fold or panel of the roman shades similar to what a tilt does on a horizontal blind. Standard or classic roman shades are sealed together on each pleat. The fantasy fold upgrade provides you with more air circulation, light penetration, and a completely different fashion when the panels are opened. The fantasy fold is available on both flat and hobbled panel roman shades

Hobbled Style
The hobbled roman shade upgrade adds extra fabric to each panel of the the roman shade. This gives the panels a tear drop shade rather than the flat panel look of a classic roman shade.
Shipping
Each of our blinds and shades are custom made to your specifications. You can expect them to arrive approximately 2 to 2 1/2 weeks after ordering. Standard shipping is UPS or FedEx ground.
Product Specifications
Width:
12" - 72"
Minimum Mounting Depth:
1"
Height:
18" - 144"
Minimum Flush Mounting Depth:
2"
Headrail Dimension:
1" x 1 1/2"
Free Features

Lift Cord
The lift cord is used to raise and lower the blinds. This option allows you to select the position of the cord on the blinds.

Tilt Cord/Wand
The tilt cord or wand is used to open and close the blind slats. This option allows you to select the position of the tilt control on the blinds. The tilt control varies by product whether it is a cord or wand type control.
Need Help Finding Something?
At Blinds Chalet we can special order just about any window covering even if it's not on our website.

Call us at (888) 633-7840
or