Bali 1" Lightblocker Mini Blinds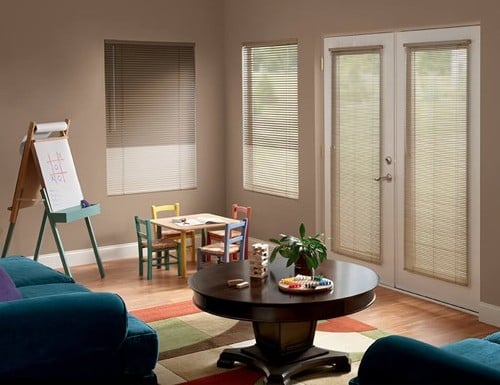 Bookmark/Share this product:
Bali 1" Lightblocker Mini Blinds are a fast, effective, and an economical way to add privacy to any choice of window in your home. Bali 1" Lightblocker Mini Blinds feature 8 gauge aluminum slats, these slats are more durable and thicker than other mini blinds on the market today. Coming in custom cut sizes to fit your specifications, you can expect an extremely strong and high quality product for the fraction of the price. Resulting in increased savings and increased satisfaction!

Creating a traditional look is a breeze and easy with Bali 1" Lightblocker Mini Blind. That is because these blinds offer many benefits, both in functionality, and presentation. These lightblocker mini blinds are the perfect size to fit windows with minimal depth and also fit perfectly on French doors. Bali 1" Lightblocker Mini Blinds offer maximum flexibility with regards to light control. So in your room you can, let the sun shine away! Or close them to block out sun and increase privacy. As well with just a quick swipe of your duster, your blinds will be clean!

Bali 1" Lightblocker Mini Blinds are available in many different colors and come specially with an advanced finish, that is resistant to bacteria, dust, and scratches. It also is humidity tolerant so it's really perfect for any environment. Mini Blinds also offer extremely fast and efficient installation. Your mini blinds where ever your put them will give you maximum benefits of functionality, look, and privacy, for an affordable price.

Options for Bali 1" Lightblocker Mini Blinds include a route less option where the route holes are moved back toward the back side of the slate. So when your slats are closed the route holes will be hidden. Providing maximum privacy, and blocking light from sneaking through. Also you can choose hold downs to come with your blinds mounted on a door to prevent smashing and banging of your mini blinds when you open or close the door they're connected too.

* Production lead times are only an estimate and does not apply to any colors that are out of stock. Please allow additional time for shipping.
Instant Savings! Dont forget to enter coupon at checkout for the 55% Off Savings!







This is a forum to ask product related questions that will be answered by our design consultants. If you have a question regarding an order or a customer service issue, please call us at (888) 633-7840 or use our
contact form
.
Approved questions and answers may take several days to appear on site but you will receive a quick response to your question.
Write a Review

No reviews yet.
Be the first to rate this product
.
This product has no upgrades available.
Shipping
Each of our blinds and shades are custom made to your specifications. You can expect them to arrive approximately 2 to 2 1/2 weeks after ordering. Standard shipping is UPS or FedEx ground.
Product Specifications
Width:
6" - 142"
Minimum Mounting Depth:
0.75"
Height:
6" - 126"
Minimum Flush Mounting Depth:
1.75"
Headrail Dimension:
1" X 11/2"
Free Features

Lift Cord
The lift cord is used to raise and lower the blinds. This option allows you to select the position of the cord on the blinds.

Tilt Cord/Wand
The tilt cord or wand is used to open and close the blind slats. This option allows you to select the position of the tilt control on the blinds. The tilt control varies by product whether it is a cord or wand type control.
Need Help Finding Something?
At Blinds Chalet we can special order just about any window covering even if it's not on our website.

Call us at (888) 633-7840
or