Blinds Chalet Announces New Cordless Wood Blind
Jul 10 2012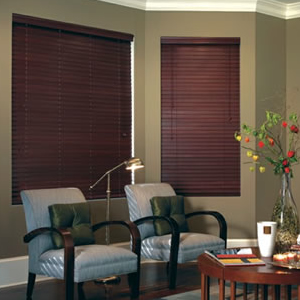 Premium Cordless Wood Blinds
Blinds Chalet is thrilled to announce their new cordless wood blind products. This new cordless system makes raising and lowering their quality wood blinds easier then ever. Simply push up to raise and pull down to lower. With no lift cords these wood blinds look elegant and rich.
Blinds Chalet now offers three cordless wood blind options. You may select from their
Good Housekeeping Cordless Wood Blind
,
Signature Cordless Wood Blind
, and
Premium Cordless Basswood Blinds
. The Good Housekeeping and Premium version only come in two inch. The Blinds Chalet Signature Cordless is available in two inch and two and a half inch.
One of the biggest benefits to cordless blinds is the added safety for children and pets. By simply removing the cord used for raising and lowering the blind you can save lives. The exclusive design of Blinds Chalet's cordless wood blinds holds the blind securely in any position.
These cordless wood blinds have a minimum width of 19 7/8" inches and a maximum width of 72" inches. The minimum length is 12" inches with a maximum length of 72". Many windows throughout your home or office will fall to within these specifications.
For customers to order the Good Housekeeping Cordless Wood Blind they must select the cordless version under the upgrades tab. Cordless is an added feature to this particular blind and doesn't come standard. Both the premium and signature cordless come standard with the cordless option.
Blinds Chalet currently offers one of the
largest selections of cordless blinds
products available. They have been selling high quality window treatments since 2006. Each product they carry is backed by their lifetime-limited warranty. To learn more or to purchase these new cordless blinds, visit their website at
www.blindschalet.com
or call them at 1-888-633-7840.
Bookmark/Share this page: