Window coverings can help protect collectibles and furnishings from sun damage
Oct 31 2011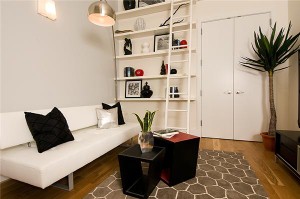 The right window covering can protect collectibles from sun damage.
Home decorators who are concerned about sun damage to their collectibles should choose
window treatments
that bring light into a room, but filter out the strongest sun rays to prevent fading of their special items.
Solar screen shades
from Blinds Chalet are a good choice for a room in which homeowners are exhibiting their accessories and collectibles is in a display wall, which can be freestanding or built-in as a focal point in a room.
Pennsylvania interior designer Donna Hoffman suggests that homeowners create a niche with shelves surrounding a sofa or other prominent piece of furniture to show off their favorite treasures.
The most dramatic display wall is one that is built from floor to ceiling, and if space allows, wall to wall. In addition to shelving, cubbies or a nook in a room can be used to create the display area.
Blinds Chalet's selection of solar screen shades are available in a variety of weaves, depending on how much sun the homeowner chooses to block from a room. Getting the right weave can be achieved by sending for a free sample, which will be accompanied by a discount coupon that makes the selection affordable as well as stylish and functional.
Bookmark/Share this page: