Furniture buyers should have a plan before they begin their bargain shopping
Oct 5 2011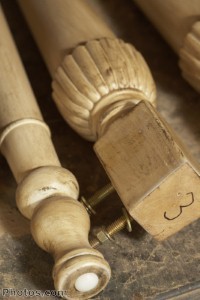 Buying vintage furniture in second-hand shops or flea markets takes planning.
California interior designer Alycia Wicker believes in having a plan before embarking on a furniture shopping trip to vintage shops, flea markets and garage sales.
On her website, she gives home decorators a number of tips to follow before they begin their visits to second-hand shopping venues. "Sometimes you'll go into the store and there is no furniture, just clothes," she states. "[Furniture] isn't the store's focus, so move on. There are stores that have more furniture than others. Try calling first to save gas."
As with any store, thrift shops have sales and want to move merchandise so they can make room for new pieces. Wicker recommends that buyers be on the lookout for coupons in the local edition of "Pennysaver" and check with the store to see if there is an across-the-board percentage off items on certain days.
Going on a shopping expedition without a list of what's truly needed is asking for trouble, according to Wicker. "You don't want to forget why you are there in the first place in case you get sidelined by the childhood toy you just spotted," she warns.
She also advises bringing along a tape measure to avoid buying something that won't fit through the door when you get home. Paint and fabric swatches are also a must to make sure of a color match.
Having a strong idea of one's design needs also comes in handy when selecting
window treatments
. Blinds Chalet has a wide range of colors, finishes and materials in its affordable lines of shades, blinds,
custom drapery
, shutters and valances. The company recommends that consumers request free samples to match colors to their home décor. With each sample comes a discount coupon that provides substantial savings.
Wicker warns bargain shoppers to bypass laminate furniture unless it will be used as a utility piece in the garage because it's difficult to refinish and has little value.
On the other hand, a scuffed-up furniture piece with "good bones" may have makeover possibilities. Wicker is a big fan of repurposing items that are solidly made with good design lines and may be rejuvenated with a paint job or decorative finish.
Finally, such items are ideal for the person with DIY skills. "If you are willing to sand and paint or stain, maybe the purchase is for you," said Wicker. "If you want to add elbow grease, you may have well found your diamond in the rough."
Bookmark/Share this page: