Wood blinds in rich tones complement the sophistication of Art Deco
Sep 22 2011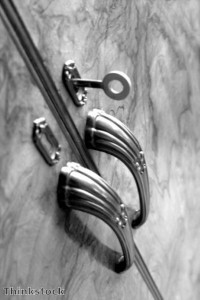 Beautiful ironwork is one of the elements of Art Deco design.
The zigzag patterns, sweeping curves and lacquered finishes of Art Déco have strood the test of time so well that homeowners who like contemporary interiors will feel right at home with this 1920s decorating style.
When it came out, this style influenced both architecture and interior design, according to InteriorDesign.LoveToKnow.com. Two New York City landmarks - the Chrysler Building and the Empire State Building - are well-known examples of Art Deco architecture.
The streamlined look is characterized by zigzig and step patterns, sweeping curves and sunburst shapes. Inlaid wood, aluminum, lacquer and stainless steel are some of the materials associated with Art Deco, the website reports.
Coffee tables and other surfaces in oval shapes are a good contrast to geometrically-placed, framed art work and black-and-white photos on the walls. Art Deco also is known for pedestals used to accessorize a room with plants or sculptures.
For a window treatment,
wood blinds
would work well to complement both the finishes and furniture pieces often found in Art Deco design schemes.
Blinds Chalet has a wide range of blinds in rich wood tones and high quality construction that are affordable as well. For instance, the Embassy line of wood blinds are available right now outfitted with free decorative tapes as a special offer.
Bookmark/Share this page: