When choosing between real wood and faux wood blinds here are some basic pros and cons of each type of window blind.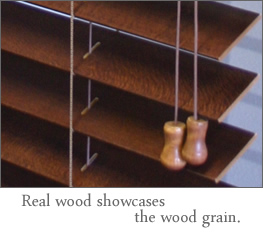 Advantages of Faux Wood blinds

Made from synthetic materials so they are less expensive than real wood blinds.
More durable. Faux wood blinds are perfect for homes with active children and/or pets.
Resist moisture. Faux wood blinds are ideal for bathrooms and kitchens where they will be exposed to moisture and steam.
Easy to clean. Because faux wood blinds can get wet they are easy to wipe down with a wet cloth.

Advantages of Real Wood blinds

Look and feel like real wood. Stains showcase the wood grain texture in the blinds.
Larger selection of colors and stains
Lighter than faux wood blinds. This is important for larger window blinds. Lighter blinds are easier to raise and last longer.