We've already discussed the most popular window shades in 2021 and talked about the differences between the different types of window shades, window blinds, and shutters currently trending with homeowners and interior designers. However, did you know that once you decide on the type of window treatment you prefer, you're not finished? It's almost more fun to decide which features you'll add to your window treatments. So, to give you a few ideas, let's take a look at the 4 most popular window shade features in 2021! 
4 Most Popular Window Shade Features in 2021: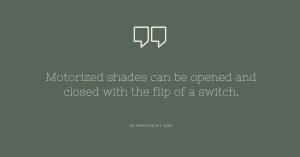 Motorized Shades or Blinds: Blinds and shades with the motorized feature added can be opened and closed with the flip of a switch. Options for controlling motorized blinds or shades include a handheld remote control or a wall switch. Examples of window treatments that offer the motorization feature include honeycomb shades (battery operated so no electrical wiring is required to install these motorized shades). Check out our wide variety of

motorized blinds and shades

. Adding the Motorized upgrade is an option available when you add the product to your online shopping cart, and upgrade fees are listed clearly.

Smart Hub Motorization: When considering your window treatments, technology is now a factor. Many homeowners and office managers are opting for Smart Hub Motorization. This add-on feature makes it possible for you to open and close your shades before you enter a room, without getting off the sofa, or even before you arrive home from work. Many consumers lean toward Smart Hub Motorization features not just for the convenience they offer, but for added safety.
Cordless Options: In addition to being clean and simple, cordless options are a safe choice for children and animals. (In fact, according to the Consumer Product Safety Commission, between 1990 and 2015, there were 16,827 window blind-related injuries among children under six years old). Statistics like this have led to a massive influx in demand for

cordless shades and blinds

.

Top Down Bottom Up Feature:

The extra control of light and privacy offered by the top down bottom up feature draws many who enjoy natural light in their living spaces, but need privacy and want to enjoy the natural light on their terms. The top down bottom up feature offers the unique opportunity to open the shades to let light in without relinquishing your privacy. 
Remember the Point of Window Shades: Privacy & Light Control
Window shades and blinds are designed to provide privacy, control the sunlight coming in from outside, and help maintain a home's temperature. The plethora of options in today's marketplace make it possible for the modern window treatment to do all that while also dressing up your home or office's windows and creating a specific look for your space.
Trends Aside: Find the Blinds or Shades that Suit YOUR Style
2021 window treatment design trends aside, choose the window treatments you love that fulfill the needs you have in your space. You're the one that will be living with them day in and day out, so make sure you like the way they look, and the way they perform. If it's something that you will enjoy daily, it doesn't matter if it's trending or not. If you aren't sure where to start, reach out to one of our Design Consultants by phone, email, or Online Chat, and they can answer your questions about production times, available features, stylistic choices, and popular colors available at BlindsChalet.com.