If you're looking for a quick and affordable way to update your space drastically, you probably already considered replacing your current window coverings. Sometimes a seemingly small change can radically update the look of your room, home, or office. Depending on what blinds, shades, or other window treatments are currently in place, updating your window coverings may even come with the added benefit of saving on your utility bill. So what options do you have, and which one is right for you?
Know Your Options: Using Blinds and Shades to Update and Enhance Your Space
Window treatments are multi-purpose; they perform various functions, and they add a particular look or style to your design. What "style" is added and what "functions" are performed is entirely up to you, but to find your window treatment style, you need to know your options first.
Learning About Window Blinds: Common Types of Window Blinds
Window blinds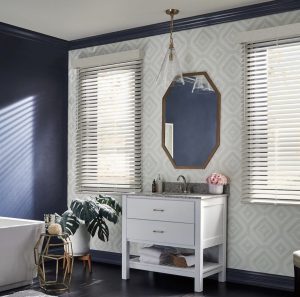 are created using either vertical or horizontal slats. Slats are usually wood or faux wood and connected by cords with controls allowing you to open and close them to let light in or block light out. Each slat opens/closes by tilting in place, but the entire set can also be raised or lowered as a unit (or pulled to one side or the other if using vertical blinds) to provide additional light control.
Traditional blinds are easy to clean (you just wipe them down), and faux wood blinds are a particularly good choice in high-humidity areas because they won't trap water.
Learning About Window Shades: Common Types of Shades
Like traditional horizontal wood or faux wood blinds, shades can be raised or lowered, but they are typically made using a single piece of fabric/material rather than multiple "slats" connected by cords. Shades come in various materials, styles, and patterns, so they frequently provide the perfect answer for designers looking for a particular color, texture, or look. But they aren't just stylish. They also offer an excellent solution for homeowners or office decorators searching for a way to create privacy in a space, offer light filtering options, or protect an area from UV rays. The four most popular types of window shades are cellular shades, roman shades, bamboo shades, and roller shades.
For more information on how to find your window treatment style, check back for our next design tip here on the Blinds Chalet blog discussing the different types of window shades and what that means for your home or office. Find more helpful window treatment design tips or discover all the details of your favorite blinds or shades at BlindsChalet.com.