When designing a space, a room sometimes has a natural and obvious focal point. Natural focal points are generally structural elements like a fireplace, exposed beams, or a distinct arrangement of windows. Windows can make a great focal point for a room (particularly when they offer a lovely view), but how do you make windows the focal point of a room?  
Interior Design Basics: What is a Focal Point? 
In interior design, the phrase focal point typically refers to a spot or area that draws the eye when you enter a room. Interior designers tend to lean towards a specific area or feature in a room as the room's focal point. In some spaces, the focal point is completely created by the design of the space, but in other rooms, the design will enhance or amplify a natural focal point like windows. When a design successfully creates a focal point in a space, it means a more inviting, and eye-catching finished design. 
Designing Your Living Room Around a Focal Point:
After you determine your room's focal point, you start to design the room around it. When designing a room around a focal point, you should try to highlight the focal point, while making the natural flow of the room point toward the area or feature. Doing so showcases the room's natural aesthetic and creates a warmer, more inviting space. Distinct architectural elements like windows may be "natural" focal points in a room, but that doesn't mean you can't enhance their ability to draw the eye in your finished interior design.
Tips for Designing Around Windows as a Room's Focal Point: 
When planning your room's design, first define your focal point. Then keep your focal points in mind while designing the space. When your focal point is a window or an arrangement of windows, there are a few things you can do to draw attention to the room's focal point. 
Making Windows Your Living Room's Focal Point: Choosing Your Window Treatments
When the windows are your focal point, and you are creating a design for your living space, pay particular attention to the window treatments you install. Consider the various styles available, the colors, the textures, the features, etc. The window shades or blinds you install should: 
Enhance the room's aesthetic

Help define the room's style 

Draw more attention to the windows and/or the view they offer
No window is complete without window treatments, but this is particularly true if they are a stand-out element in your room design. Window treatments are a common investment, but many overlook their significance in highlighting the design style of the home or office. When windows are a focal point in your space, it is even more crucial that the type of window treatment you choose is considered carefully. 
Highlighting Windows as a Focal Point in Your Living Room: Type, Features & Color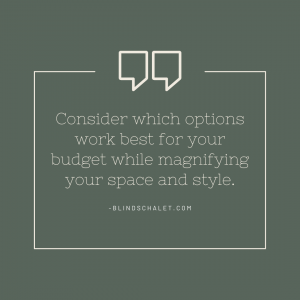 When attempting to highlight windows as a focal point in your space, there are many options. Consider which will work for your budget while magnifying your space, and your design style: 
Window Shades, Window Blinds, and Shutters (Oh MY!): The type of window treatment you install is the first design you'll need t make. Some types lend themselves easily to a minimalist look, some are more suitable for sophisticated or professional spaces, and others might be the best choice when versatility is key. 
Cordless, Motorized, Blackout, Light Filtering…and more: There are countless features to choose from – it's often best to consider your space first and define the basics of what you hope your window treatment will accomplish in the room before you begin shopping. Look at your space and consider your windows. Is privacy an issue? You may want to add privacy liners to your list of requirements for any natural woven shades. Is light a problem? Consider carefully whether you're hoping to block out all light (blackout shades or blackout liners) or if you'd prefer controlling the light (light filtering shades or liners). Will the windows be accessible to small children? There are so many cordless window shade options now, but it doesn't hurt to verify. Are you facing an amazing arrangement of windows that are also difficult to reach or inaccessible? Ask about motorized window shades. The number of features available is fairly extensive, so don't be nervous to create a comprehensive list of "needs" you require your window treatments to fill. 
Color, Pattern, Texture, etc.: Lastly, but possibly the most fun, is the actual design and look of the window treatments. If you want to add warmth to your room, consider some textured natural woven shades. If you hope to emphasize your windows as the focal point with bold prints, consider the wide array of roman shades and roller shades in countless shades and patterns. In some rooms, the perfect enhancement is the traditional faux wood or wood window blinds or even a classic wood shutter. Base your window treatment choices off of your space, your lifestyle, and your design style, make sure to leave a little wiggle room for seasonal decor updates, and minor decor changes. 
More Focal Point Design Tips: Draw the Eye to Your Windows
When your focal point is your windows, or even the view through the windows, you can use your window treatments to frame the area or the view through the window. Layering can be a great option. For example, combining an opulent fabric curtain in a stunning color with natural woven shades is a beautiful contrast in this featured designer's living room (see image). Don't be afraid to combine different textures and colors to really help your windows make a bold statement while warming up your room. However, layering your window treatments isn't the only way to enhance the statement your windows make in a space. Some room layouts may create a slight difficulty making the windows the room's focal point. In these instances, you may be able to solve the problem with your furniture placement. Something extra may be needed to draw attention to the area and lead the eye straight to the windows in the room. Strategically arranging furniture can do just that. For example, by placing gorgeous accent chairs on either side of the window arrangement in this room, the eye is directed to the windows (see image). Another method that can be effective is to place low furniture in front of the window (without blocking the view) or just rearranging furniture to create a path for the eyes to follow to the windows as the room's focal point.
No window is finished until it has window treatments – particularly when you're dealing with windows that stand out. If you're looking for just the right window shades, window blinds, or shutters for your space, find a wide array of high quality options at BlindsChalet.com.