Q:
On the honeycomb cell shades there are multiple options for upgrades including both cordless and cordless top down bottom up. I do not want any cords, so if I choose the cordless top down/ bottom up will there be no cords or do I have to choose both options?
A: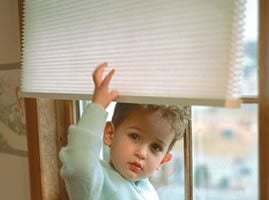 Cordless Cell Shades
Any of our
cordless cell shades
or
cordless top down bottom up shades
come without visible cords. The difference between the two is the cordless top down bottom up option allows the cell shades to be either raised from the bottom up or lowered from the top down. The top down bottom up option adds an additional "headrail" at the top of the shades. This headrail lowers as the top of the shade is opened.
Cordless shades are designed for safety because the lift cords are contained within the window shades. Cords used to raise and lower window blinds poise a potential threat to children and pets. The Window Covering Safety Council recommends that every area dedicated for children should have cordless window shades. Buy your
cordless shades
today!
Bookmark/Share this page: