Sierra 2" Wood Blinds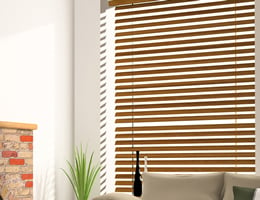 Bookmark/Share this product:
Made with 100% kiln dried basswood that is coated with a UV Cured Topcoat to resist scratching and repel dust, our Sierra Wood Blinds are built to last. Each Sierra Wood Blind comes with a matching wood trapezoid bottom rail for tighter closure as well as a matching real wooden valance. The cut ends are either painted or stained to match the finish of the blinds.

Made in USA with US & imported parts and built in one day so they are guaranteed to arrive fast. Custom design your real wood blinds with upgrades such as rounded corners, routless ladders, or decorative tapes.

* Production lead times are only an estimate and does not apply to any colors that are out of stock. Please allow additional time for shipping.
Instant Savings! Dont forget to enter coupon at checkout for the 35% Off Savings !






This is a forum to ask product related questions that will be answered by our design consultants. If you have a question regarding an order or a customer service issue, please call us at (888) 633-7840 or use our
contact form
.
Approved questions and answers may take several days to appear on site but you will receive a quick response to your question.
Q:
Our depth is only 1" and we would prefer an inside mount. Is there any additional hardware available that will allow us to do this?
Asked on Sep 3 2012 by Peg
A:
The head rail dimension for the Sierra 2" wood blind is 2" x 2 1/2" in depth. This means the blind will extend out past the front edge of the window frame. We would suggest calling us at time of ordering, so we can make sure that you get some returns on your valance. This will cover up the installation brackets as they will stick out about 1 1/2". We can put special notes in to the manufacturer requesting side pieces to cover up the brackets.
Write a Review

We were pleasantly surprised with our blinds.
Dec 2 2013
| | | | |
| --- | --- | --- | --- |
| | Quality | Installation | Appearance |
Measuring:
I measured my own blinds!
Installation:
I installed my own blinds!
We were pleasantly surprised with our blinds. They are lovely and were exactly the right size. So easy to install We have had great comments on them

The blinds were perfect.
Nov 18 2011
| | | | |
| --- | --- | --- | --- |
| | Quality | Installation | Appearance |
Measuring:
I measured my own blinds!
Installation:
I installed my own blinds!
The blinds were perfect. Fit well easy, to install good quality, loved the change to our room, thanks.

2 on 1 Headrail
Because large blinds are difficult to raise and lower, the 2 on 1 and 3 on 1 headrail allows multiple smaller blinds to share a common headrail and valance. This gives the overall blinds a cleaner appearance.

Decorative Tapes
Decorative Tapes provide additional light control with a touch of class. Instead of the standard rope lift cords, decorative tapes are fabric lift cords that come in various colors.

Rounded Corners
Each wood slat is cut with rounded corners for a softer look to the window blinds.

Routless Ladders(No Holes Privacy)
Routless ladders are designed to block additional light when the blinds are closed. Each slat does not have a rout hole for the lift cords, but instead they run on the outsides of the slats.

Due to the unique cording techniques used on routless blinds, lowering them may require assistance.
Shipping
Each of our blinds and shades are custom made to your specifications. You can expect them to arrive approximately 2 to 2 1/2 weeks after ordering. Standard shipping is UPS or FedEx ground.
Product Specifications
Width:
10" - 96"
Minimum Mounting Depth:
0.625"
Height:
10" - 120"
Minimum Flush Mounting Depth:
2.25"
Headrail Dimension:
2 x 2.25"
Free Features

Lift Cord
The lift cord is used to raise and lower the blinds. This option allows you to select the position of the cord on the blinds.

Tilt Cord/Wand
The tilt cord or wand is used to open and close the blind slats. This option allows you to select the position of the tilt control on the blinds. The tilt control varies by product whether it is a cord or wand type control.

Tilt Control
The tilter control is used to open and shut the blinds. Tilter control options are either a traditional wand or a cord pull. Blinds Chalet recommends the cord pull for easier use and durability.
Need Help Finding Something?
At Blinds Chalet we can special order just about any window covering even if it's not on our website.

Call us at (888) 633-7840
or