Q:
What is the depth difference in the attached vs. moveable liners on the Tavarua Woven Wood Shades?
A: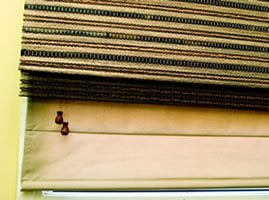 Because the woven wood fabric does not always provide complete privacy, bamboo shades come with optional privacy liners. The liners can either come attached to the shades or be a separate independent liner.
The attached liner is usually sew onto the back of the
bamboo shades
and is raised and lowered with the operation of the shades.
A moveable liner is simply a separate shade that shares the same headrail with the
woven wood shades
. This liner comes with it's own lift cord and can be operated independent of the bamboo shade. This has pros and cons. In order to see out the window, two shades must be raised however, the liner can be raised with the bamboo shade lowered. This allows filtered light to pass through the shades and let light in while still providing some privacy.
Look for our free liners with the purchase of four or more Tavarua bamboo shades. With free shipping and free edge binding our prices are hard to beat. Buy your bamboo shades today!
Bookmark/Share this page: