Q:
I am interested in ordering the Koloa bamboo blinds. You have the image of on your website, however going though the color choices I cant seem to find the one you have in the photo. can you tell me which color the is?
A: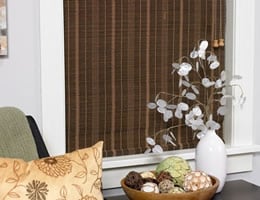 Koloa Woven Wood Shades in Piazza Brown
The color in the image of the Koloa Bamboo Shades is "Piazza Brown" with is a color within the
Koloa Woven Wood Shades
product. Feel free to order sample swatches of our bamboo shades. This allows you to see how good the quality the Koloa shades. Each Koloa bamboo shade is hand made with all natural materials woven together to make unique patterns and colors.
With all of our bamboo shades, the Koloa bamboo shades come with free edge binding. This is a fabric wrapped around the edges of the bamboo to protect and give added color to the shades. Choose from a wide selection of colors to accent any decor.
Watch for other promos such as buy 3 Koloa bamboo shades and get the 4th for free! Not only are they great
quality woven wood shades
but they are priced right. Buy today and get free shipping on your order!
Bookmark/Share this page: