Trends and Predictions for Home Automation
Jan 27 2014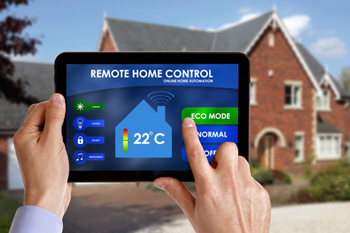 With technology becoming more and more interwoven into our daily lives, it should come as no surprise that the availability of home automation features has increased. These days, homeowners can use automated technology to do everything from programming the thermostat to
pulling the shades
. Many cutting-edge tech products not only make the lives of homeowners easier but also improve home efficiency significantly.
Here are some recent events and interesting products, as well as some predictions for 2014.
Google grabs Nest
The list of top home automation innovators includes Nest, a company known for offering a line of next-generation thermostats, smoke detectors and carbon monoxide alarms. Given its passion for innovation, Google surprised no one by announcing plans to acquire Nest for $3.2 billion. Google's primary goal is to integrate its smart technology to enhance home energy management and implement wireless devices as attractive as they are functional.
Fortunately for Google, the company already has a lot to work with. The digital, programmable thermostat that Nest offers is designed to keep homes as comfortable as possible while reducing energy consumption. Its Auto-Away feature adjusts the thermostat automatically whenever you leave your home. The end result could be a reduction in your heating and cooling bills of up to 20%.
Using the Nest app gives you the option of changing the settings on the go by using your iOS or Android smartphone. This way you can crank the heat up on your way back from work and walk into a warm and cozy home.
The Nest smoke and carbon monoxide alarm is also highly intelligent. Say you burned your toast and there's no real danger. The alarm will give you a heads-up by lighting up and warning you that it's about to go off. In this case, you can simply stand underneath and wave your arm to silence the alarm. In the event of an actual fire it will tell you the location and sound the alarm. If carbon monoxide levels are rising, it will warn you well ahead of time. It even lights up automatically at nighttime whenever someone passes underneath, acting as a temporary nightlight.
What's in store for 2014?
In light of Google's planned entrance into the smart-home market, it appears that homeowners can expect even more improvements and technological advances in home automation. This trend has already been
foreshadowed
at the 2014 Consumer Electronics Show (CES), where the featured exhibitions included voice-activated washing machines. As everything becomes more digital and wireless, it should become even easier to keep a home functioning at a high level with very little effort. Mobile devices like tablets and smartphones will continue to become more intertwined with household systems as wireless capabilities expand.
Home security will also become more automated. Security/automation technologies already on the market help consumers keep an eye on their homes using their mobile devices. Products on display at CES 2014 included such items as programmable door locks and a new ADT Pulse feature that utilizes voice control for security and home automation functions.
If you need a crash course in home automation and home security, you can
find more information here
. Be aware, though, that things can and do change rapidly.
The bottom line is that home automation should gain considerable ground in 2014. Devices just keep getting more intelligent and more sophisticated and more efficient. While these types of systems may have been out the price range of many homeowners a few years ago, they have become more affordable and the overall costs should continue to decrease. This means that home automation should be even more accessible to the general public in the coming year – and in years to come.
Sutton
Feb 27 2014
It was a beneficial workout for me to go through your webpage. It definitely stretches the limits with the mind when you learn helpful advice and make an effort to interpret it accurately. I am going to look through this web site constantly on my PC. Thanks for sharing
Post a Comment