Good Housekeeping Tip Number One Test Your Fix-It-IQ
Dec 2 2013
This is the start of a few Good Housekeeping posts that will be presented on our blog. They are designed to offer solutions to common problems. Most of these tips or fixes can be accomplished by using simple household items. Good Housekeeping Magazine and their fantastic product lines are perfect for any home.
We sell the the
Good Housekeeping Blinds and Shades line
on our website. Every one of their window treatments is made of the highest quality and will improve the
energy efficiency of your window
. So, enjoy these wonderful tips and as always let us know what you think in the comments below.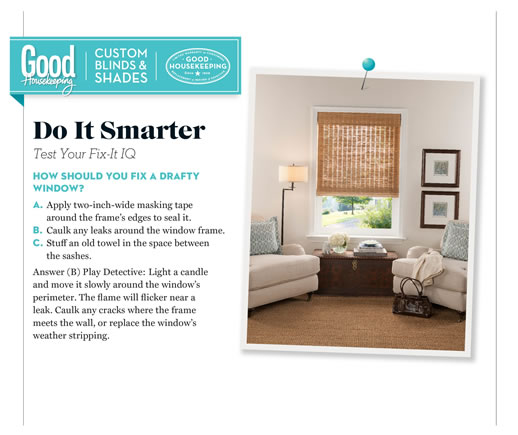 Tip #1 Do It Smarter - Test Your Fix-it IQ
Question: How should you fix a drafty window?
Answer A: Apply two-inch-wide masking tape around the frame's edges to seal it.
Answer B: Caulk any leaks around the window frame.
Answer C: Stuff an old towel in the space between the sashes.
The Correct Answer is (B) play detective: light a candle and move it slowly around the windows perimeter. The flame will flicker near a week. Talk any cracks where the frame meets the wall, or replace the windows weatherstripping.
Four Luxury Upgrades You Need for Your Home
Dec 2 2013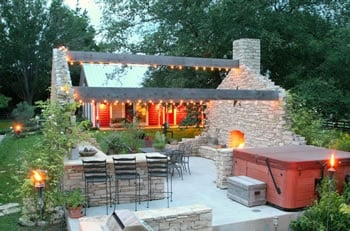 Today's upscale remodel focuses on ways to increase a home's tranquility and reduce its environmental impact. The focus is on green construction, which emits fewer harmful gases and is more energy efficient, and on fully integrating the outside of the home as part of its interior design.
Turn Your Master Bathroom into a Soothing Spa-Like Retreat
Today's luxury bathrooms are designed to be places where the owners can
take time to relax
away from the demands of their busy lives. Amenities that soothe and comfort, therefore, are the primary focus. Saunas, heated floors, fireplaces, and windows that artfully frame the views outside without compromising privacy all give a sense of indulgence.
Erase the Boundary Between Indoor and Outdoor Spaces
Glass wall systems are a great luxury upgrade. These systems give the illusion of no barrier between inside and outside spaces. Using the natural lay of your property to create a series of additional rooms is a way to subtly emphasize the environmental focus of your design and to make your home seem much more spacious. A pool-side guesthouse may incorporate
luxury spas and hot tubs
in its design, giving the homeowner a special destination to which they can retreat as well as the perfect place to host informal parties.
Install an Outdoor Kitchen
Just as an indoor kitchen is the gathering place inside your house, the focal point of your outdoor space should be a great outdoor kitchen. Chef-grade stovetops, wood-fired pizza ovens, dishwashers, mini wine storage units, granite or slate countertops -- the emphasis is on creating an efficient and sumptuous space in which one can produce a meal without even needing to go inside.
Computer-controlled Sensor Panels
Imagine a home that can be programmed from your smart phone or office computer so that the garage door can be closed from a remote location, lights are on where you want them, and the pool is heated to perfection. Imagine being able to check your surveillance cameras with one click. Wiring the whole home to a centralized computer control system maximizes energy efficiency and gives tremendous peace of mind, which is why it is one of the hottest luxury upgrades on the market today.
The emphasis in today's luxury upgrades is energy efficiency and spa-like indulgence. Using green materials and incorporating the outdoor space into the inside design are both winning ways to optimize your home remodel.