6 Ways to Make Your Home More Inviting
Jul 8 2013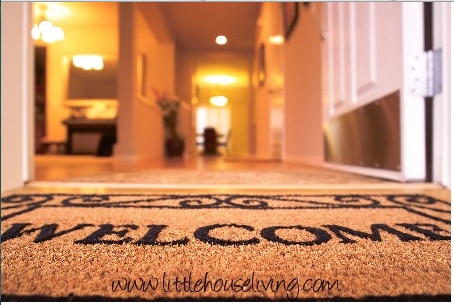 How welcoming is your home? Just about every homeowner believes his or her home is inviting, but we're not always the best judges of home décor. If you're the type that likes to entertain, it's especially important to create an inviting environment. Whether you're hosting a dinner party or a movie night, here are a few ways to make your friends envious of your home.
Clear the clutter
Look around your home for things that tend to clutter the area. The most important areas to de-clutter are the entryway, living room and kitchen. When a person walks in and finds piles of muddy shoes on the floor and jackets dangling from every corner, it makes your guest feel crowded. You'll want to clear the pile of magazines in the living room and remove unnecessary kitchen clutter. Put the cookbooks away and keep the extra utensils in a drawer.
Install soft lighting
You don't need to put in a bank of recessed lighting to achieve this goal, simply add a few lighting fixtures that have frosted glass. You could also consider using daylight bulbs, which are warmer and match the color of sunlight. They aren't as harsh as the yellow, high wattage bulbs most homes use. Adding cellular shades is also a nice option. These shades not only block sunlight, but they also add a sheik look to any room.
Offer plenty of comfortable seating
The key to this tip is "comfortable" seating. Any homeowner can pull out folding chairs but if you want your guests to feel at home, invest in some quality seating options. For the kitchen table, consider high back, cushioned chairs. In your living room, consider home theater seating. Your guests will spend a majority of the time sitting, so comfort is vital.
Select soothing colors
What color are your walls? The paint selections you make impact a person's mood. If you're planning to paint, consider calming colors like pale yellow or light greens. You don't have to paint every room in your home a monotone color to have an inviting house, but the high traffic areas should have lighter hues. If painting isn't in your future, limit your decorating scheme to lighter colors.
Check the bathroom
While your guests won't be spending much time in your bathroom, it's still a room you'll want to pay attention too. Your bathroom should be easy to use. In other words, make sure the soap dispenser is full and fresh towels are within reach. Get rid of any junk on the countertop. The hairdryer and contact solution should all be put away.
The most inviting homes are clean, open and comfortable. You want guests to admire your home, not leave with a list of things that bother them. You don't want a home that seems like a museum either. You need to find the right balance between classy décor and comfortable furnishings.
Bio:
Brian Jacobs is the senior writer and editor for a leading home theater store. You can purchase
home theater seats
and other great movie quality furniture.
Want to participate in the Blinds Chalet community?
View details
Post a Comment