Choosing the Perfect Hot Tub for Your Home
Jun 3 2013
At the end of a busy day, nothing is more relaxing than slipping into the soothing warm and bubbly waters of a spa or hot tub. The combination of heat and the pulsing jets of the hot tub do a great job of making the stresses of the day just melt away.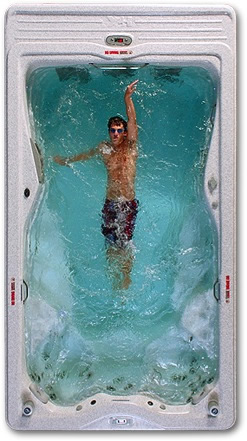 In addition to being a great place to soak and get away from it all, hot tubs can also provide terrific opportunities to exercise or socialize with friends. For people who are in the market for a hot tub, it's important that they give some thought to their personal style and what they hope to accomplish with their new spa before heading out to purchase one. For example, the following three personality types will probably do best with entirely different models of hot tubs:
The Athlete
In recent years, swim spas have grown in popularity as a great way to get exercise. The swim spas typically feature a propeller that delivers a strong current that the user swims against, allowing the person to get a great workout. In addition, these models often have therapy seats for post-swim soaks. The Michael Phelps swim spa line has a variety of models that come in different sizes and offer several types of features. For example, the MP Signature Swim Spa is meant for experienced swimmers who are looking for a fantastic workout in the comfort of their own backyard. The swim spa is 18 feet long and can handle the most intense training with ease. It features the Wave XP Technology Propulsion system that is part of the Michael Phelps swim spa brand, two therapy seats, and rowing and exercise equipment.
The Entertainer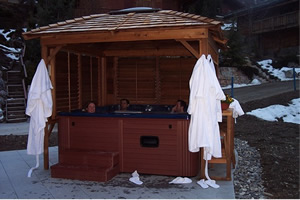 For many people, hot tubs and parties just seem to go together. At the end of a busy week, it's fun to invite over a group of friends and spend an evening socializing and relaxing in a spa or hot tub. Bullfrog Spas offer a great line of hot tubs that are ideal for hot tub parties. The company's selection of large-sized tubs means there will be plenty of room for everyone. For example, the A8 model is extra large and features an open layout. Eight people can fit comfortably inside this model, and customers may select six JetPaks of their choosing to help ensure that everyone gets a great massage. According to the Bullfrog Spa website, other models that are popular with the hot tub party crowd are the Model 262 and 462. They are a bit smaller than the A8 but since they offer upright seating they seem very roomy and are extremely comfortable. As a tip, in order to be sure the hot tub stays free from debris and retains as much of the needed chemicals as possible, it is a good idea to invest in
hot tub covers
—they are available in different sizes and can really help keep leaves and bugs out of the water.
The Traveler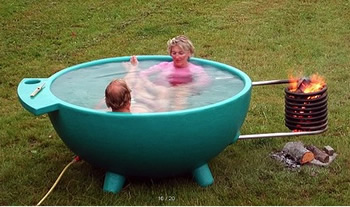 Believe it or not, it is entirely possible to take a hot tub along on a vacation. Thanks to the
Dutchtub
, hot tub enthusiasts can enjoy an outdoor soak just about anywhere in the world. As noted on their website, the tub is heated by a coil that circulates the colder water at the bottom up to the top of the tub. The lightweight hot tub is designed to be moved around from location to location—it is easy for two people to lift and can even be strapped to the roof of a vehicle. The original model seats four people quite comfortably.
by Brandon Jolley
Want to participate in the Blinds Chalet community?
View details
Post a Comment