A: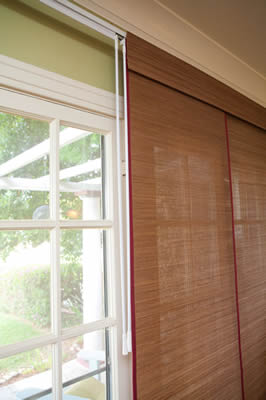 Panel track blinds are a great alternative to vertical blinds. So many people do not like the look and function of traditional vertical blinds. Panel track blinds are easier to operate and more durable. Bamboo sliding panels create a more desirable look that is more aesthetically pleasing.
Our woven wood sliders are made from all natural materials such as wild grown bamboo so they are eco friendly. Choose from either a non privacy light filtering slider or add a liner for more privacy and light control.
The only disadvantages to
panel track blinds
are the size of the stack and the depth need to mount them inside the window frame. When the panels are drawn open they still cover about two feet. Vertical blinds have a stack as well but not typically as large. The other disadvantage of panel track blinds is the mounting depth. Larger windows require more tracks and more depth.
Our bamboo panel track blinds are hand made and may cost more than traditional
vertical blinds
but the quality and finish is better.
Bookmark/Share this page: