Good Housekeeping Light Filter Insulating Blinds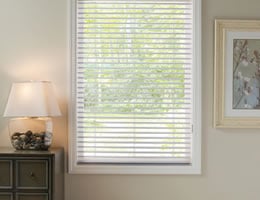 Bookmark/Share this product:
Good Housekeeping Light Filtering Insulating Blinds are designed for insulation and are a great way to lower energy bills. Each Insulating Blind comes with honeycomb fabric. These unique cells can separate and compress or the fabric be raised.

Made with light filtering fabric that provides privacy while allowing some filtered light to pass through the blinds.
Each insulating blind is backed by the Good Housekeeping Seal so you know you are getting a quality product.
Product Out Of Stock






This is a forum to ask product related questions that will be answered by our design consultants. If you have a question regarding an order or a customer service issue, please call us at (888) 633-7840 or use our
contact form
.
Approved questions and answers may take several days to appear on site but you will receive a quick response to your question.
Q:
How do you clean these blinds?
Asked on Oct 13 2012 by Arianna Smart
A:
Dusting
All window blinds and shades may be dusted. Regular dusting will prevent dust from collecting and staining or soiling fabric shades.
Vacuuming
For deeper cleaning window coverings may be vacuumed by using a brush attachment with the vacuum on the low setting.
Spot Cleaning
Window shades and blinds may be spot cleaned using luke warm water and mild detergents. Blot the fabric shades without applying much pressure so the fabric will not damage. Rubbing can damage fabric window blinds. It is always recommended to test the fabrics in a location that is not clearly visible first to make sure the detergent doesn't affect the fabric color.
Compressed Air
Compressed air can be used to blow off the dust from the blinds or shades. You may either use canned air or from a compressor. Care should be taken not to use too much pressure.
Write a Review

No reviews yet.
Be the first to rate this product
.
This product has no upgrades available.
Shipping
Each of our blinds and shades are custom made to your specifications. You can expect them to arrive approximately 2 to 2 1/2 weeks after ordering. Standard shipping is UPS or FedEx ground.
Product Specifications
Width:
20" - 84"
Minimum Mounting Depth:
0.5"
Height:
12" - 120"
Minimum Flush Mounting Depth:
2.5"
Headrail Dimension:
2" x 5/8"
Free Features

Lift Cord
The lift cord is used to raise and lower the blinds. This option allows you to select the position of the cord on the blinds.
Need Help Finding Something?
At Blinds Chalet we can special order just about any window covering even if it's not on our website.

Call us at (888) 633-7840
or