Solid Print Roman Shades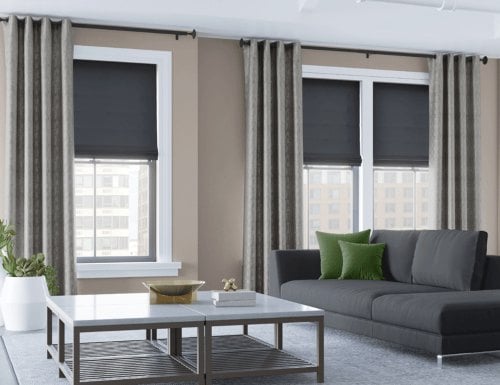 Bookmark/Share this product:
Our solid print roman shades collection come in various fabrics such as satin, silk and herringbone. Each roman shade comes in a plain flat fold style with a privacy liner. Privacy and blackout liners are white in color and are on the backside of the shades. Optional upgrades include European fold and hobbled fold styles.

Valances are only included with the following:
inside mount
Cord front lift
top down bottom up lift
outside mount
continuous code loop lift

Valances will not be included with the following:
Standard cord(behind shade)
cordless lift
inside mount continuous cord loop lift

Note: Adding a blackout liner to the standard plain fold style runs the risk of light seepage between the stitch perforations. To avoid, choose another fold style.

Standard lift cord is located behind the shades for a cleaner look. Upgrade to cord forward for easier operation.

Shades over 48" wide will come with a visible seam. On outside mount shades with either a continuous cord loop or a top own bottom up lifts only the headrail at the top of the shades will be 1" wider than the fabric.
Instant Savings! Dont forget to enter coupon at checkout for the 40% Off Savings !






This is a forum to ask product related questions that will be answered by our design consultants. If you have a question regarding an order or a customer service issue, please call us at (888) 633-7840 or use our
contact form
.
Approved questions and answers may take several days to appear on site but you will receive a quick response to your question.
Write a Review

Purchased for bathroom window to match roman shades in black canvas I had in the joining bedroom.
Apr 1 2013
| | | | |
| --- | --- | --- | --- |
| | Quality | Installation | Appearance |
Measuring:
I measured my own blinds!
Installation:
I installed my own blinds!
Purchased for bathroom window to match roman shades in black canvas I had in the joining bedroom. They look great, nice quality, and perfect fit. I ordered inside mount and gave the exact inside dimensions of my window, the blinds couln't fit more perfectly. I am very pleased. Price was best out there for custom size.

Blackout Liner
Add additional privacy and block the light by adding this upgrade to your shades.
Our standard blackout liners offered in white.

Continuous Cord Loop
Designed for easier lifting of those larger blinds. This upgrade has a looping lift cord rather than the standard single cord lift. On smaller shades, minimum cord length is 24 inches.

Cord Front
Standard lift cord location is hidden behind the shades for a cleaner look. The cord front upgrade moves the cord in front of the shades for easier operation but makes the lift cord visible.

European Style Fold
The sides curve upward as the shade is raised softening the look of the roman shades. No horizontal seams run through the fabric as found in the standard fold or hobbled style fold.

Small tack stitches may be visible on the face of the shades where the cord rings are attached. This shade takes manual adjustment to achieve the desired effect. It is not recommended for frequent use but more as a decorative shade.

Hobbled Style
The hobbled roman shade upgrade adds extra fabric to each panel of the the roman shade. This gives the panels a tear drop shade rather than the flat panel look of a classic roman shade.

Seamless Fold
A simple tailored designed with no horizontal seams running through the window shades. This tailored style is an excellent choice for large patterns where you would not want any interruption with a seam or fold.

Small tack stitches will be visible on the face of the shades where the cord rings attach.

Top Down-Bottom Up
Lower the shades from the top or raise them from the bottom. This option allows you to do either or both at the same time. Lower your shades from the top allowing for privacy while the shades are partially open.
Shipping
Each of our blinds and shades are custom made to your specifications. You can expect them to arrive approximately 2 to 2 1/2 weeks after ordering. Standard shipping is UPS or FedEx ground.
Product Specifications
Width:
12" - 120"
Minimum Mounting Depth:
1.25"
Height:
16" - 120"
Minimum Flush Mounting Depth:
2.25"
Headrail Dimension:
1.75" x 0.75"
Free Features

Lift Cord
The lift cord is used to raise and lower the blinds. This option allows you to select the position of the cord on the blinds.
Need Help Finding Something?
At Blinds Chalet we can special order just about any window covering even if it's not on our website.

Call us at (888) 633-7840
or