Uglydoll Roller Shades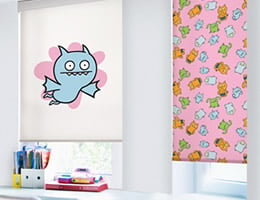 Bookmark/Share this product:
A Blinds Chalet exclusive! The Official Uglydoll roller shades available only at Blinds Chalet. Choose from all of their favorites including Wage, Ox, Babo, and Ice-Bat.

"Ugly" means unique and different. Decorate your kids room with a unique Uglydoll roller shade.

Each Uglydoll roller shade come standard with FREE cordless lift control for a safer blind.

Choose from the standard light filtering fabric or upgrade to a blackout fabric for added light control.
Product Out Of Stock






This is a forum to ask product related questions that will be answered by our design consultants. If you have a question regarding an order or a customer service issue, please call us at (888) 633-7840 or use our
contact form
.
Approved questions and answers may take several days to appear on site but you will receive a quick response to your question.
Write a Review

No reviews yet.
Be the first to rate this product
.

Blackout Fabric
Our standard fabric is a light filtering fabric. Upgrade to blackout fabric to block light from passing through the window shades.

Cassette Headrail
The cassette headrail comes with a matching fabric strip.
The shade is raised and lowered by a cord
The cassette headrail has an integrated reverse roll stop.
Price is based on the width of the shades
Headrail Measurement:
Inside mount, ordered width minus 3/8"
Outside mount, ordered width plus 3/16"
Fabric Measurement
Inside mount, ordered width minus 1 1/8"
Outside mount, ordered width minus 3/4"
Shipping
Each of our blinds and shades are custom made to your specifications. You can expect them to arrive approximately 2 to 2 1/2 weeks after ordering. Standard shipping is UPS or FedEx ground.
Product Specifications
Width:
12" - 112"
Height:
12" - 120"
Free Features

Roll Type
Reverse roll feature is available at no extra charge with all roller shades. The reverse roll allows the fabric to roll off the front of the roller instead of off the back, which is standard. The reverse roll conceals the hardware system for a contemporary, tailored appearance.
Need Help Finding Something?
At Blinds Chalet we can special order just about any window covering even if it's not on our website.

Call us at (888) 633-7840
or