Broadview Shutters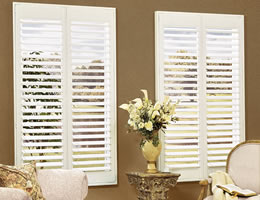 Bookmark/Share this product:
Our Broadview Shutters are custom made in USA so they ship faster than other shutters.

Our Broadview Shutters come standard with a FREE hidden tilt control system upgrade. The hidden tilt control gives you wide open, clean views.

Made with Poly Resin louvers with an open core for added insulation and temperature control. Broadview Shutters have superior insulation properties for added energy savings. The poly resin construction is easy to maintain and clean and it also resists dents, scratches and will not warp, chip, crack or fade. These faux wood shutters are also fire retardant and moisture resistant making them ideal for kitchens, bathrooms, or any room in the home.

It's also a green shutter! Paint free so there is no VOC emissions or solid wastes. Recyclable and durable so it won't end up in a landfill. MDF-Free so you don't have to worry about formaldehyde, a known carcinogen, out-gassing into your home.

* Production lead times are only an estimate and does not apply to any colors that are out of stock. Please allow additional time for shipping. Product Out Of Stock






Due to the color variation between monitors we recommend ordering samples before placing your order if color is important.

This is a forum to ask product related questions that will be answered by our design consultants. If you have a question regarding an order or a customer service issue, please call us at (888) 633-7840 or use our
contact form
.
Approved questions and answers may take several days to appear on site but you will receive a quick response to your question.
Q:
I am interested in the broadview shutters. I want to do a outside mount but the window sill comes out about a 1/2 inch and was wondering how to work around this.
Asked on May 26 2013 by michele
A:
If you have a window sill at the bottom of the shutter, you will want to order a 3 sided frame, or remove the sill. If you have existing frame around the whole window, and want to still do any outside mount, you will have to remove the frame.
Write a Review

The blinds arrived very fast.
Apr 27 2012
Measuring:
I measured my own blinds!
Installation:
I installed my own blinds!
The blinds arrived very fast. Not difficult to install with two people.
This product has no upgrades available.
Shipping
Each of our blinds and shades are custom made to your specifications. You can expect them to arrive approximately 2 to 2 1/2 weeks after ordering. Standard shipping is UPS or FedEx ground.
Product Specifications
Width:
12" - 96"
Height:
12" - 72"
Free Features

Frame Type
The profile or style of the shutter frame. There are different options for inside mount vs outside mount shutters.
Inside Mount
L Frame For windows with at least 2.5" of depth with inside mount and with trim or molding.
Z-Frame For inside mount shutters with at least 2.5" of depth.
Outside Mount
L-Frame For outside mount shutters with or without molding. May be mounted on top of existing molding. Frame size = 1 3/4"
Face Mount For outside mount shutters with or without molding. May be mounted on top of existing molding. Frame size = 2 1/2"

Frame Sides
The number of sides of the shutter frame. 4 sides are standard but for instance if your window has an extruding window sill 3 sides is recommended.

Number of Panels
Determined by the width of your window, the number of shutter panels within the shutter frame. You can adjust this number to customize your shutter design, look, and feel. When more than one panel is selected they will be equal size.

Panel Fold
How each panel attaches to the frame and the other shutter panels. Shutter configurations are when looking at the shutter from inside the house and are listed from left to right.
L=Left
R=Right
T=T post divider(used to add strength to the shutter)

Louver Size
Louvers are the horizontal slats on each shutter panel. Louvers are available in various sizes measured by the vertical dimension of the louver.
Split Tilt
Split tilt allows the both the top and bottom portions of the shutter to be opened independent of the other. This feature allows for light control and privacy. Required for shutters over 62" high but optional for sizes under 62" high. Each shutter panel will be divided evenly.
Inside Mount
Outside Mount

L-Frame

Trim Z-Frame

Elegance Z-Frame

Face Mount Frame
(Add 2 3/8" for frame on each side)

L-Frame
(Add 1 3/4" for frame on each side)
Need Help Finding Something?
At Blinds Chalet we can special order just about any window covering even if it's not on our website.

Call us at (888) 633-7840
or