Save Money And Decorate Your Home With Designer Far-Infrared Heating Panels
Mar 6 2014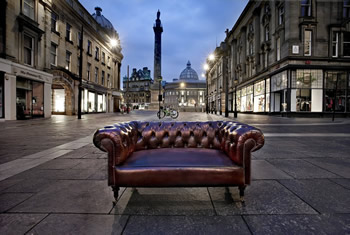 There are many young fans of antique furniture, yet it is typical for today's youth to live in modern city apartments and ordinary new-builds. Given contemporary surroundings, it is natural to be drawn towards modern furniture designs – yet antique styles still make a good fit in modern living space, especially when blended with current designs.
Interior designers often say modern home owners are sceptical when they suggest blending antique furniture and fittings amongst the hi-tech gadgets and photographic artwork. It is only when the designers create the graphic images or plant the piece in the room that the vision becomes clear.
We can't design your entire set-up, but we can give you plenty of suggestions for antiques that may work in your home. There are lots of great designs modern day home owners can embrace, and if you are on a budget, antique furniture shops and auctions can save you a reasonable amount of money. Of course, designer antique furniture is also available for fashionistas with a bigger budget.
Chairs
Chairs can be used for decoration around the home as well as a creature comfort. How about going regal in the bedroom with a Queen Anne or Georgian antique chair, or a Tudor as a convenient seat whilst you put your shoes and socks on. For office and living rooms, the plush leather of a stylish
Chesterfield
has the smell and feel of empowerment whilst a high-back Louis XV Bergere or a French gentlemen's chair properly supports your seating position and is a stylish feature for your reading space.
Beds
The classic antique bed is of course the four-poster with the obligatory fabric canopy draped over the top, but this style has become cliché in upmarket guest houses and English costume dramas on the TV. As an alternative option, take a look at a French Lit Bateau bed, or boat beds as they are commonly referred to. The scrolled headboards are particularly distinguished.
If the headboard is to be your bedroom shoe-piece however, there are few designs that can top a beautiful
Italian Empire
bed from the Renaissance period. Alternatively you could try an early 20th Century Italian Venetian style. For something less flash, but equally impressive in terms of build and style take a look at the Art Deco walnuts beds that were popular in the UK between 1900 and 1950.
Vanity tables
Ladies need their own space to apply their makeup and contemplate life (or whatever), and a sophisticated antique vanity table for the bedroom gives you your own storage facility. Vanity tables come in all shapes and sizes from the multi-draws of large Victorian walnut dressing table to dainty French kidney-style dressers. If you really want to wow your friend go for a 19th century British Burr Walnut table and cushioned stool. Exquisitely crafted you will be the envy of your circle.
Mirrors
Walk into any antique stall or auction and an antique mirror will capture your imagination. Perhaps the most common - because they are the most popular - are the 18th Century Versailles mirrors which look awesome over a marble fireplace or in a hallway. For something smaller a Louis XIV gilt mirror is a nice fit in any home. For a quaint look bevelled Victorian mirrors apply a nice touch, and in the absence of a vanity table with a mirror an arched walnut dressing is a timeless masterpiece.
Dining tables
If you have the money to invest in an antique centre-piece, they don't come more grandiose than a wooden dining table. Large families have the option of medieval banquet tables or round French dining tables that can comfortably seat up to eight people. And for smaller families who enjoy hosting dinner parties can suit both worlds with either an extendable Austrian Biedermeier or early Victorian Mahogany.
Antique furniture adds a lot of character to a room and last a long time so are economical and sustainable. You can also have a lot of fun when buying antique furniture and once your creative juices flow with inspiration your visits to auctions and antique shops will probably become more frequent.
Richard Oldale author bio
Richard is a freelance writer with a passion for home improvement, technology and interior design. Always on the look-out for fresh and intriguing design concepts, he is dedicated to providing readers with décor tips and ideas together with the latest industry news.
Post a Comment