Selecting the right bed linen can help lead to comfortable sleep
Feb 3 2014
How much do you enjoy sleeping? Studies have shown that if your bed is not properly made, you can't get a good night sleep - and by properly made we're referring to adequate choice of linens, cushions, pillows, even flagrance. It's not enough to buy affordable sheets and expect them to last forever because they won't. Also, cheap materials are itchy; they don't allow the skin to breathe, so it's impossible for someone to sleep comfortably on something that feels neither smooth nor pleasant. Believe it or not, the right choice of bed linens can help you have the best night sleep you had in ages. The golden rule is to spend a little more money on quality.
Choice of material
Decades ago we didn't have that many choices available as far as bed sheets were concerned. Our options were cotton … and more cotton. That was it! Although the choice of material has gone through some changes over the years, cotton has remained the most popular. It allows cool air to penetrate through the material during the summer season and it can successfully trap heat. Therefore, it's perfect for any type of weather.
Of course, there are
many types of cotton available
, and if you want to really enjoy your sleep, the following 3 should definitely be included on your list: Sea Island, Pima and Egyptian. Prior to spending money on such exclusive blends, make sure that the fabric is 100% authentic; also, it's equally important to buy your bed linens from a trusted manufacturer.
Apart from cotton, bamboo blends are equally suitable for your choice of bed linens. Usually blended with cotton, bamboo is great because it is sustainable. It sips moisture and it's anti-microbial. A less used type of material is silk. Lightweight, luxurious, and really comfortable, silk is not breathable so it's not suitable for the summer. Also, the material is extremely expensive and not many people can afford to pay such colossal amounts on silk linens.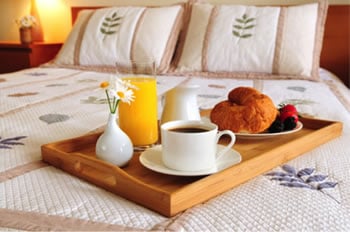 Shopping for the right set of bed linens
Just because a set of cotton linens are on sale, it doesn't mean you should rush to buy them. Make sure that you have the right size, fit, and material sorted out prior to investing. There are many ways of shopping for bed sheets – you can either go to a local shop or enjoy an online shopping spree. If the second choice sounds easier for you (it's also cheaper), you have to make sure that the provider can be trusted.
Check authenticity certifications, analyze their official website, read the terms & conditions, and ultimately, look for reviews. A well-established brand is active on social media sites too. See what others have said about their products, and then begin selecting you type of bed linens.
Quality materials lead to a good night sleep
A good night sleep depends on several main factors: type of bed, pillow size and fit, and bed sheets. It's extremely important for the sheets to be made of high quality otherwise you might experience some serious side effects. For example, synthetic fabrics can cause allergic reactions. Also, they don't absorb humidity and might contain damaging chemicals (that might harm babies in particular). Parents should pay close attention to the type of material they choose for their kids' beds. Organic cotton is the most recommended assortment because it's allergen-free, soft, and really comfortable.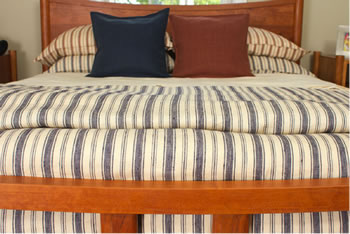 Weave and finish
The weave of a bed sheet affects its longevity, looks, and price. Basic simple weaves (woven from an identical number of horizontal and vertical yards) are the most convenient and they're not always of the greatest quality. Opt for percale weaves instead if you want your sheets to last. As far as finish is concerned, every buyer should know that most types of bed linens are chemically treated with silicon, chlorine or formaldehyde in order to prevent them from losing shape, from shrinking, or wrinkling. Pure-finish bed sheets are the newest trend because they don't contain any chemicals, so you should definitely get more information on this matter.
Good quality bed linens will help you sleep
like a baby the whole night. Most people ignore that aspect and choose to opt for the cheapest sheets on the market. Rather than spend money on some materials you'll probably have to replace in a couple of months, it's always best to invest in quality, protect the kids, and at the same time benefit from supreme comfort.
Post a Comment