What's hot and what's not - Deciding for your bachelorette apartment furniture
Feb 3 2014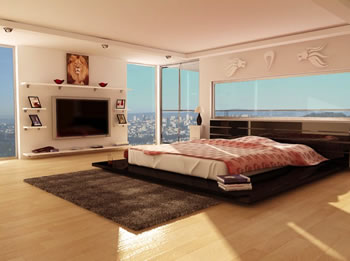 Getting your own apartment is the first step to declaring independence. You feel all grown up having your own place with no curfews or mom badgering you on coming home late and doing your chores. You can have friends over at any time be it night or day. It's the ultimate stamp to freedom.
But how do you turn it into that cool place you feel proud to live in and love showing off to your friends and family? Well there are a few things that are the defining mark that you must keep in mind before you can furnish your apartment.
Deciding the kind of apartment you want
First you need to decide the kind of apartment you want to live in. This is mostly decided by your income, your budget. Based on your income, you can either go for a studio apartment, sharing or getting your average apartment.
Studio apartment:
A studio apartment is just a large space with no rooms, a bathroom and a kitchen. How you set it up is what makes it a home to call your own. In a studio apartment you have to fit everything in without making it look crowded and over bearing. You need your living space where you and your friends can relax and watch TV or just hang, you need a dining area where you can sit and eat and you need your bed. How do you fit all of this is completely subjective to your studio. But, whether it's small or large, you can always make your studio apartment cozy and chic by using the right kind of combinations of furniture.
Color schemes:
There are a lot of color schemes out there but getting it right all depends on your studio. If your studio is really small then using white or neutral colors is a good choice. They make your studio look larger and brighter. If you think it's too dull and doesn't fit in with your persona then you can always mix it up with a colorful rug and vibrantly colored pillows and a few abstract or funky decoration pieces in the house.
If your studio is a bit roomy then you can always make it more out there. Mess it up by painting one wall a vibrant and bright color. Throw in a colored chair and bright, eye catching pillows all over the place. And, of course, don't forget those amazing decoration pieces that give the place a feel of you.
Size of the furniture:
In order to fit everything in and make it look roomy at the same time, the best bet is getting small furniture. The furniture, though small, should not look out of place and should definitely not be uncomfortable. Furniture with legs, instead of box furniture is better to use. As a bachelorette pad, where you are going to have all your girlfriends over, getting petite furniture is the key to a lovely, homey and chic home. This
infographic
can help you a lot.
Maximize your space:
Maximize your space by using dividers. Using dividers gives the studio an impression of being an apartment. You can keep your bedroom separate from your living area and keep people out as well. Dividers can also double as storage space such as a book shelf or a closet.
Set your furniture up in a manner that makes the room flow into one. It shouldn't look like the dining area, bedroom and living area have been forced into one place. The furniture needs to be set up in a manner that gives the impression that the whole place is just one continuous space.
Sharing an apartment:
If your allowance/ income don't allow you to be able to afford an apartment or a studio, sharing is the best option for you. It's just like having a new sister albeit one you hadn't ever met before. Sharing can be fun but at the same time it can be frustrating as well. When decorating the apartment you have to keep in mind that you are going to be living with someone else, so the apartment needs to be furnished appropriately.
Either ask your room mate to give her input on the choice of furniture and come to a common ground or decorate the place (excluding her bedroom) neutrally as you can never go wrong there. Neutral does not mean boring. You can use some fancy wallpaper and nice, comfortable but really cool furniture as well. Later on you can always add color to it with pillows, pictures, decoration pieces and lamps etc. depending on if your roommate agrees.
In the bathroom and other areas, divide your space or use vertical cabinets, shelves etc. so that you guys don't crowd the place and don't squabble over using each other's space or things etc.
Single apartment:
This is the best kind of apartment if you're financially sound and can afford an apartment. Now, you have the whole place at your disposal to do with as you please. Deck up your living area with a good surround system and LCD screen, comfortable couches with vibrant colored cushions, nice wallpaper or a bright colored wall. Don't forget your book shelves though. Design it according to a theme, a year, or a style. A feminine touch is what makes a house look like a home so be sure not to overdo it in your enthusiasm.
Make your bedroom your signature mark. Lighten it up by using a nice wallpaper, cute furniture and your bed as the center piece of the room. Give it a girly look by adding pinks to the room and an exotic mirror frame.
Use a glass table for your
best dining table
as it gives a really sophisticated look. Adding a few funky corner pieces lightens up the room. Pictures and abstract art will also look good in your dining area.
What separates a bachelorette's apartment from a guy's, is the taste of the female. Although both parties mostly revolve their homes around neutral colors and furniture, a woman always adds more life to a home. She touches it up with bright colors and gives it a feminine feel. A female's house is more like a home then a guy's bachelor pad.
No matter how she chooses to decorate her house she can always turn it into a place worth living in and that feminine look is what having a bachelorette apartment is all about.
My Bio:
Selena is a blogger who loves to write on different topics. She also writes for Dining Showroom, a sister mart of furniture Mart. Follow her on
Google+
Fran
Feb 8 2014
say thanks to so much for your web site it helps a whole lot.
Post a Comment