Backsplashes, and Bake Ware: Give Your Kitchen a Facelift in 2014
Jan 14 2014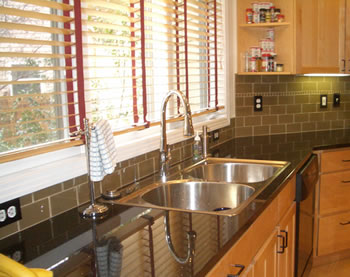 If you feel that your kitchen is just downright uninspiring, perhaps it could use a makeover in 2014. There are a number of ways to make your cooking area more beautiful and appealing in a cost effective manner. For example, putting up new blinds or changing the color of the blinds, installing new back splashes or purchasing new bake ware will give your kitchen a whole new feel without spending a lot of money.
Updating your Kitchen with New Appliances and Tiled Counter Tops
If you find that your kitchen is in need of an update, installing new counter tops or appliances will help to make your cooking area more beautiful and efficient. Installing new tiled counter tops can enhance the feel of a food preparation area immediately. It is quite easy to fall into a cooking rut. If you find that you are becoming quite bored with preparing the same meals, baked items and desserts, investing in new cooking appliances will dramatically increase the number of dishes that you can comfortably prepare in your own kitchen.
Enhancing your Food Preparation Area with New Blinds
If you currently have old curtains up on your kitchen windows, or if you have blinds that you have had up for some time in a color that is no longer appealing to you, replacing those blinds with a new color pattern will enliven your cooking area immediately. The palette of colors available in blinds today ranges from very neutral and subtle shades, to quite bright and invigorating. If many of the colors in your food preparation area are muted, choosing a complementary color for your blinds will make the space more spacious and peaceful.
Brightening up your Cooking Area with a New Back Splash
In the same way, installing a new back splash will immediately give your cooking area a brand new feel. Back splashes are available in a variety of solid or patterned tiles, stones and other materials. Adding a patterned tile back splash behind the sink, or behind your stovetop, will add a welcoming beauty to your space. For more information about the different tiles that are available, please visit:
tilemegamart.com.au
.
These are some easy ideas for making your kitchen more beautiful, welcoming and functional. Sometimes just putting up new blinds in a new color or pattern is enough to make your kitchen much more welcoming and inviting. Or you may find that installing a few beautifully patterned tile back splashes in your kitchen makes the space much more appealing.
Post a Comment