Winter Redecorating: Interior Design Projects For Frightful Weather
Jan 7 2014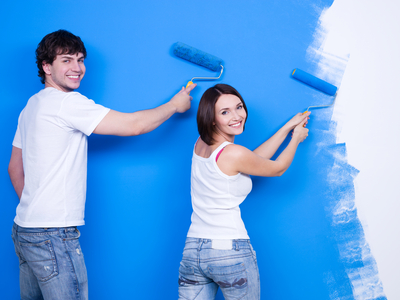 It's the standard cliche in snowy climates: "There's only two seasons -- winter and construction." While this saying may prove true when it comes to transportation changes, homeowners need not put renovation plans on hold when the weather outside is frightful. Here are five
interior design projects
for frightful weather:
Punch Up Boring Doorways
If you've been thinking of incorporating a more modern approach to your decor, but worry a bit about entirely restructuring your current setup, you may want to consider adding a unique element to your current doorway. Pennsylvania's "Patriot News" highlights French-style doors as an excellent alternative if you're unable to afford more extensive architectural detailing. This type of door also lends itself well to homes in which the addition of extra windows and other natural lighting provisions is not a viable option. For a more zen-like option, consider investing in shoji screen doors, an option HGTV points to as ideal for your otherwise dull bathroom.
Replace Old Flooring With Comfier Carpeting
Whether you've been dealing with tattered carpet or have decided to switch out the beat up floorboards for something a bit more comfortable, it's worth your while to think about new carpeting. Although hardwood and tile represent a greater share of the flooring market than in the past, statistics from "MSN Real Estate" prove that carpet is still the most popular option, with the comfy flooring making up 62 percent of all flooring sold in the United States. Keep in mind that, although you'll able to install new carpet easily, you'll still need a reliable service such as a
Denver Next Day Dumpsters rental
for removing old flooring material from your home.
Change Up Light Fixtures
The short days of winter can make the cheeriest homeowner miserable, but the pain is easier to bear if you're equipped with high-quality interior lighting. If your boring ceiling is no longer cutting it, think about adding an unexpected twist with the addition of a chandelier or a ceiling-affixed silk shade. Wall lighting also makes for a nice option, with sconces proving particularly popular in modern homes. Mounting new light fixtures generally makes for an easy interior update when you're not in the mood for a more extensive project. All you need to do is attach your new light fixture to the existing wire setup. Of course, as "This Old House" points out, the installation of a support system will be necessary if you're
replacing a standard fixture with a chandelier
.
Add Color To Hallway Walls
You've done your best to brighten up the rooms in your home, and yet, something still doesn't feel quite right. Perhaps it's time to include those drab hallways in your winter redecorating initiative. Experts at "Better Home and Gardens" suggest adding an unexpected pop of color to the walls of your hallway, either with a simple trim, or, if you're daring, painting an unexpected hue from floor to ceiling. If you feel a bit ambivalent about turning that eggshell wall into a bright purple splendor, you can always take a more subtle approach by attaching colorful photo frames to the off-white walls. This will allow for more color in your hallway, while also turning an otherwise boring area into a personal gallery.
Post a Comment