Shopping List for DIY Stamped Concrete
Sep 23 2013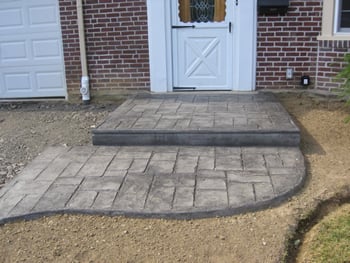 Your pristine pool is gleaming, beckoning visitors outside to jump in its waters. Your grill is top-of-the-line, ready to fire up fresh local veggies and the finest of steaks. Your patio furniture is the perfect mix of functional and comfy -- lots of pillows to lounge on, with cup holders built right into the furniture. Even with trappings like these, what's going to really make your outdoor area a hit during the next block party is something so basic, you might not even realize what's missing -- until you look down. Revamping your patio flooring with a stamped concrete design is one surefire way to ignite "oo's" and "ah's" from your visitors. It will glisten with a beautifully shiny finish that will make guests feel like they just entered a resort.
Installing stamped concrete, though, is a challenging do-it-yourself project, with numerous considerations for tools and installation processes. Keep in mind,
you have to pour and finish concrete all at one go
, HouseLogic reports. You might not get a second chance to fix something once the concrete sets. Unlike working with wood or plumbing, you can't just pull out a few nails, or cut out a section of PVC. Concrete is at best, ornery, and at worst, unforgiving. A bonus if you DIY: It is a major accomplishment and a testament to personal pride for decades.
Here are some tools you'll need for DIY concrete pouring, with helpful tips from
doityourself.com
and
gatortool.com
:
Tools Required (2,3)
For pre-pour work (excavation, design, lay-out):
Tape measure
Laser level
Spray paint
Forming material (2x4's, nails, hammer, wood stakes, form release agent)
Plastic tarps
Wire mesh
Bull float (prepares surface for troweling)
Chalk line


These are all available from your hardware store.


Stone, sand (for building the base).
Obtain from your local crushed stone vendor.
For pouring the slab:
Concrete, from your local concrete plant
Concrete vibrator (for getting air bubbles out)
Fresno trowel
Hand-held trowels
Edger
Brick joint tool
Brooms
These are all for placement of the slab. Get these from Gator Tools, a professional concrete tool manufacturer, or a similar service.
Finishing the surface
Decorative concrete stamps
Tampers (for stamps)
Color hardener
Stamp release agent
These are all available from Decorative Concrete Products.
A Hybrid Solution
The first parts of the project are generally DIY friendly (pre-pour work). You could do what's necessary before the cement truck shows up, and hire a contractor to finish the floor professionally. Based on estimates by HouseLogic, labor is half the contracted price. The DIY part takes around half the total time. Therefore, using their estimated cost of $10-$15 per square foot, on a 1,000 square foot patio, you potentially save $3,125.
If only part of the job will be DIY, you will need to look for a contractor for the finishing details. To narrow your choices, you may want to
search for concrete contractors on tenlist.com
or a similar provider. Sites such as Tenlist help you find local contractors and then vet them thoroughly for honesty, reputation and other criteria. The contractor(s) they recommend to you should represent the best contractors in your local area. Moreover, their pre-vetting saves you tons of time on research.
For more information on the installation process for stamped concrete, the ASTM guide for Stamped Concrete has a variety of helpful tips.
by Brandon Jolley
Post a Comment