5 Tips to Brighten Up your Home
Aug 30 2013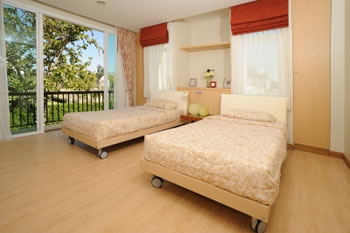 image
via
Having a bright, well-lit home brings a fresh, spacious and cozy air to any indoor space. Sometimes it can be challenging to get the light you want, however. Fortunately, it's pretty easy to create the light you want without busting the bank. Check out the following five easy tips to help make your home bright and vibrant.
1. Install new windows
The most effective way to brighten up any indoor space is to install gorgeous windows that allow natural light to stream in. All you need is one maybe two strategically placed windows to make a bright difference.
Be sure to shop around for a professional and reputable
window installation company
that offers the best value for the price. Before installing windows, be sure to do a little brainstorming. For example, ask yourself: Do I want sunrise or sunset light?
Try swapping your heavy winter curtains for some made of lighter, breezy fabrics. Still not bright enough? Try giving your windows a good cleaning. You'll be amazed at the difference.
2. Paint
One of the easiest ways to brighten up a room is to slap some fresh paint on the walls. To avoid unforeseen redecorating expenses, be sure to pick a colour that coincides with the existing décor in the room. Red, yellow and orange tones are some of the more popular hues used to brighten a room.
If you're not a fan of colour, refresh your existing white paint or try adding just a dash of colour to the room by painting one wall (known as an accent wall) that is seen from many angles.
3. Add reflective décor surfaces
Strategically placed mirrors are an effective way to add light and space to a room. Because mirrors are naturally reflective, including them in your home helps create the illusion of more light. Create a wall of different sized framed mirrors or simply hang one on a wall that gets a lot of light.
If you're not a fan of wall or stand up mirrors, try adding mirrored decorative pieces like picture frames, a candy dish, coasters or candle holders. You'll be amazed at how bright a few reflective surfaces can make your room.
4. Add plants & fresh flowers
A common misconception is that indoor plants need lots of light and time, but many plants actually thrive in low-light conditions and prefer being left alone. Some of these include: Pothos, Philodendron and the Chinese Evergreen.
Not only do houseplants bring texture and colour to a space, they are natural air purifiers that help lighten and brighten most indoor spaces.
Want even more light? Try housing those fresh flowers in a quirky mirrored or crystal vase.
5. Add lighting
Another great (and seemingly obvious) way to brighten up a room is to add artificial lighting. A couple extra table or floor lamps are super effective in creating light.
Try placing lamps around reflective surfaces (or acquiring lamps made with reflective surfaces) for some extra pop or you can even install overhead lighting in one of those darker corners of the room. Canister fixtures pointing toward the ceiling are great for brightening up corners.
Using full spectrum daylight-stimulating bulbs also help create the feel and look of natural light; at the very least, ensure you're using fresh bulbs with sufficient wattage.
For an easy redecorating spruce-up, swap locations of a lamp or change their lampshades and you've instantly created a bright new look.
Author Bio:
Joyce Kmith has over ten years of experience as a PR professional in Toronto, Ontario. She's also a part time yoga instructor and full time Toronto Maple Leafs fan. Joyce is a consultant for
Riverbend Windows
.
Want to participate in the Blinds Chalet community?
View details
Post a Comment