Chandeliers – Perfect for Indoor Home Décor
Aug 20 2013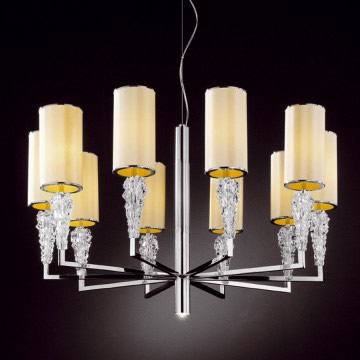 Chandeliers usually make you think about large lights that can only be found in theatres and public auditoriums. However, chandeliers are perfect for any home and it will immediately light up any room and create a stylish atmosphere for your guests to enjoy.
When you choose to use chandeliers in a home, there are a few things that you need to consider. First of all you need to make sure that the size you choose is correct; a good rule of thumb is to add the size of the room together in feet, and then convert the answer into inches. The result should then be the diameter of the fixture. But if you want to add a chandelier in a dining room for example, choose one that is roughly the width of the dining room table. Rather have the chandelier be a bit bigger than the table rather than being smaller, as it won't look as good when the table is larger than the chandelier.
Hanging Chandeliers in Your Home
Chandeliers add the perfect style and level of light in any room, and they can be added to almost any home. They are often the focal point in a dining room, and guests will immediately notice it. Make sure that it complements your existing décor and always determine the right size chandelier to use before you buy.
When you hang a chandelier in a room, always ensure that it is low enough to provide enough light. You can hang a chandelier about 30" from a table top as a guideline, but preferably not closer as it might look to "heavy" for the room when you do. If you use entryway chandeliers, make sure that they are about 7 feet from the floor and not lower, as tall people might have a hard time walking underneath them.
Other things to remember is not to limit yourself to only one chandelier in a large room as you can always hang smaller chandeliers too; you can also use a variety of chandeliers throughout your home, even in your kitchen and bathroom. Never be afraid to play around with different styles, and install dim switches so that you can choose the level of light that you need.
In some cases you can use two smaller chandeliers, and you can even combine different styles in various rooms in your home. If you are not sure, ask an interior designer or decorator for tips and advice, and take them with you when you shop for new chandeliers. If you fit them correctly, your home can look stunning and more stylish than ever before. This is also why designers make use of chandeliers in many of their projects; chandeliers provide a completely different atmosphere than normal lighting and it can add a significant amount of style to your newly built home.
Chandeliers are great for almost any room in your house, and finding the perfect one will instantly revitalize your home. For a great variety of products,
use Lighting55.com for your next chandelier purchase.
Want to participate in the Blinds Chalet community?
View details
Post a Comment