The Eco-friendly Benefits of an Artificial Lawn Installation
Jul 1 2013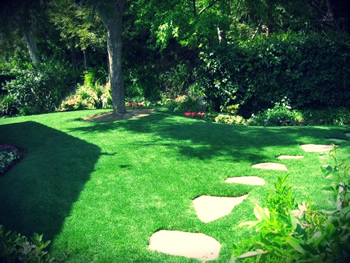 While artificial grass was introduced to the world over five decades ago and used in sports courts, school and university playing fields, and golf putting greens all over the nation, it is now employed for residential purposes currently as well. Since its initial manufacture, technological advancements across the industry have meant that synthetic turf now resembles the look and feel of natural grass, but with no need for regular bouts of backbreaking (and costly) maintenance work.
In areas where water is scarce, a lush area of always-green artificial grass is the perfect solution. Combined with its faultless uniformity and the way it neatly frames the other features in the backyard (be it a fountain, pond, garden balcony, swimming pool, gazebo, illuminated well or a short flagstone path), synthetic turf is the correct choice for places where grass cannot grow easily. For example, many people throughout the world do not have the luxury of a suitable climate that encourages the growth of natural grass, so the synthetic option becomes a valid choice.
High-tech but low-maintenance synthetics require no seeding, mowing or trimming. Only the most committed of green-fingered garden lovers do more than hose the grass down when it becomes dirty, or sporadically using a rake or leaf blower to even out any ruffled patches. Because there is no need for strenuous weeding or monthly landscaping chores, homeowners are free from endlessly working on their backyards. Artificial grass needs no kind of irrigation, edging or resodding, and will stay green even when the temperatures soar. In drought-inclined municipalities like Los Angeles County, they even offer tax rebates to residents who agree to remove their natural lawn areas.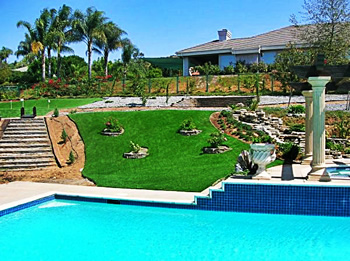 Artificial grass has a matchless reputation for being environmentally friendly, because it needs virtually no watering. The EPA calculates that U.S. households utilize approximately seven billion gallons of water every day for outdoor recreational use. By eliminating daily watering requirements, fake grass encourages water conservation, as well as resulting in considerable savings on your water bills.
Another reason why synthetic turf is eco-friendly relates to the total elimination of harmful chemical applications, such as fertilizers, fungicides, insecticides and pesticides treatments. It is also fully recyclable, resistant to UV rays and can handle extreme variances in both weather and temperature.
Synthetic lawns drain quickly after rain or snow because the drainage process is the same as that of real grass, with perforated holes that deplete the water into the permeable rock/sand base under the level of turf itself. The majority of
artificial turf
products also use soybean plants in its manufacture. Due to this, pet urine is never a predicament: It flushes through the drainage holes and can then be hosed off later (or the rain can take care of it). Solid waste is removed in the same way as with natural grass, and does not stain the grass blades.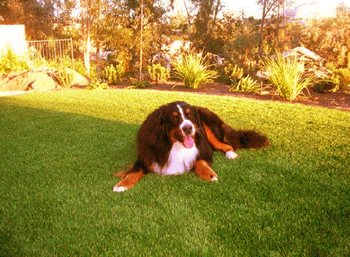 SYNLawn LA and Ventura are proud to provide durable artificial turf for anyone requiring lush, green grass that lasts all year round. Our stunning synthetic putting golf greens and landscape grass services are available to residents living in the following areas: Beverly Hills, Long Beach, Santa Barbara, Anaheim, Burbank, Newport Beach, Huntington Beach, Thousand Oaks, Pasadena, Santa Ana, Encino, Simi Valley, Santa Monica, Agoura Hills, Manhattan Beach and Malibu. Please visit us online at
DiscountArtificialGrass.com
or, alternatively, you can call 866-739-5296 for more information on our pet turf runs, backyard putting green installations, and for details about our free samples and estimates.
Want to participate in the Blinds Chalet community?
View details
Post a Comment