Five Tips for Creating a Cozy, Inviting Guest Room
Mar 4 2013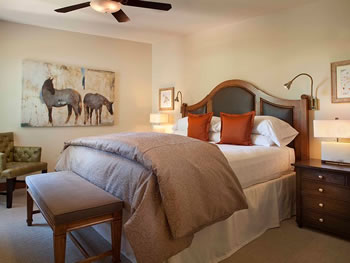 Too often a guest bedroom mutates into a storage facility or inefficiently used home office. However frequently (or infrequently) you host guests in your home, there's no excuse for offering them an uncomfortable place to stay. With a few simple changes, you can make sure your guest room is warm and inviting!
Encourage Restful Sleep
Presumably your guests are on vacation — so let them sleep in! Be sure windows can be easily blacked out with any combination of blinds, shades or drapes. When you're not hosting guests you can enjoy a peaceful nap in the quiet oasis you've created.
Get the Light Right
Avoid florescent bulbs or intense high wattage lights in favor of those that replicate natural light. Have multiple sources of diffuse light so the room is well lit without being overly bright. Opaque glass sconce
lighting fixtures from Kichler
will make bedsides beautiful and functional.
Choose Cozy Linens
You've given your guests the optimal lighting and darkening elements, but for them to really enjoy spending time sleeping in, some quality bed linens are essential. As
Southern Living
recommends, "Buy the best bed linens you can afford." They also advise that you choose light colored bed linens in either a cotton or linen fabric since these are classics that won't go out of fashion.
Start with a set of bed linens and add pillow shams and a neutral colored duvet cover. Neutral colors also mean that the room's color scheme will appeal to anyone, from child to adult of either sex.
Make Entertainment Easy
Lounging in
bed
is often more fun when you can watch your favorite TV shows or DVDs, so make that simple for your guests. Make sure that it is easy for your guests to operate the television, DVD player, or other entertainment device such as a gaming system that you've got in the guest bedroom. Consider typing up a quick list of instructions for how to use the remotes, cable boxes, and other components and attaching the list to the device.
Add Some Swag
When guests arrive to find a beautiful basket full of fruit, snacks or special goodies in their room, they will feel as if they are truly on vacation!
Knotting Hill
Interiors recommends a guest basket filled with items that are good for quick snacks as your guests unpack, unwind at night, or prepare for each day. Your guests might also be hit with sudden hunger pangs and may not feel quite comfortable exploring the kitchen so this makes it easy for them to enjoy some fruit, crackers, or candies that don't need refrigeration. Don't forget to leave a few small plates and silverware bundles. Bottled water is a nice addition as well!
When you are preparing your guest room, remember to incorporate these tips along with your own experience and imagination. If you have special fond memories of a stay at a friend or family member's home, or at a special bed and breakfast, think about the things that made you feel most at home. These special touches will usually appeal to your own visitors as well!
by Brandon Jolley
Post a Comment