A Fetching Foyer: Make Your House's Design Pop
Jan 28 2013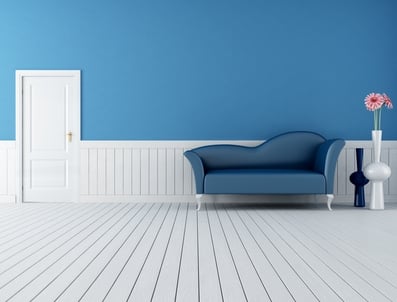 Your foyer is the window to your home's soul, and the most important place to make the best first impression on your guests is your entryway. An entryway can say "welcome, relax, stay awhile," or it can beckon to your guests' inner artist, or perhaps intimidate through grand showboating. The sky is the limit when it comes to adorning the mouth of your home.
Get Organized: Remove the Plaque
Just like plaque builds up on unhealthy teeth and causes them to lose their sparkling appeal, clutter tends to build up like crazy in a foyer. Mail is one of the nastiest offenders, and make the difference between your foyer looking like Better Homes and Gardens, or an episode of "Hoarders."
The simple act of placing a small recycling bin or
decorative basket
on a shelf can add both function and aesthetic appeal to an otherwise dumpy problem. Furthermore, encouraging children, spouses and roommates to get into the habit of picking up their mail, and offering fun rewards can make a big difference.
Adding a corresponding organizer for outgoing mail, bills and paperwork is also a must-have for any organized foyer. That way any medical or school paperwork, notes or tax information is ready to go when needed.
Add A Splash of Color, Make Your Art Dazzle
New trends in design are increasingly focused on eye-popping color. Gone are the days when suburbia was flooded with drab vanillas and beiges around every turn, thank God "white-on-white" is ebbing in popularity. Show your wild side with splashes of color on your wall. Bright reds, oranges and blues, plumbs, and even bright yellows might seem intimidating, but the bold and courageous end result is totally worth it.
Color is for more than just the walls. Bright colors, even in small doses, make a big impact. If you don't want to take the plunge and paint a whole wall a bright color, try adding
accent colors
in the moldings or wainscoting. Even bright frames, sculptures and furniture add chic and give your entryway an international feel. Small touches can make any house a home and can be enjoyed by you and admired by your guests.
Seasonal Spice is Nice
To keep the entryway of your home looking fresh, place a table in the foreground that lends itself well to seasonal changes. With the popularity of Pinterest and other DIY stores and sites popping up all over, crafts and gorgeous décor have never been so attainable. Take advantage of these trends and show off your inner Martha Stewart or
best entry furniture from VisionDecor.com
ideas.
It doesn't have to be a winter wonderland or look like the inside of the Easter Bunny's burrow, but some decoupage Easter eggs and a few strings of twinkle lights can make a world of difference when it comes to ensuring your house is an appealing, zesty place to be all year long.
Want to participate in the Blinds Chalet community?
View details
Post a Comment