Top Tips to Make Your Garden Environment Friendly
Jan 18 2013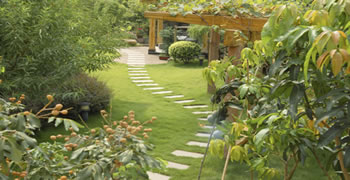 You might have a garden that looks lush enough with butterfly flowers, corkscrew rush, towering reeds as well as dramatic foliage but in reality it might have potential threat elements in it that might cause harm to the environment. Apart from relishing a beautiful and glowing look in your garden all year round, it is also important that you make it safe and environment friendly. You should make your efforts to prevent insects, weeds, drought, diseases as well as other negative impacts. Keep an eye on the following lawn care tips that help you make your garden green in a true sense.
Mulching
You should focus on mulching as it is going to pay rich dividends. Organic mulches ensure that water does not evaporate into air. Mulching is great to ensure that plants get the water in proper way. The process of mulching provides sufficient nutrients to the soil of your garden and thereby it reduces the requirement of additional manures as well as fertilization in the garden.
4Rs
There are 4Rs, which are prescribed in the Green Scrapes Program of US Environmental Protection Agency. They are reducing, reusing, recycling and rebuying. With the use of these four useful methods, you can be sure that you will be able to use all the lawn care materials competently and at the same time reduce wastage in your garden. You are going to save a significant amount of your time, money as well as energy if you reuse free clipping or composts for mulch and rainwater to water your garden. With the help of recycling, you are actually going to save your resources and by rebuying environment friendly products for your garden, you can decrease the threats like chemical contamination, Trans-generic contamination as well as hormonal contamination.
Composting
Composting is a great way to make your garden environment friendly. With the help of this method you can feed the plants of your garden in a natural way and save them from chemical contamination and other harmful effects that they might have received from fertilizers. You have to place some composting bins in your garden. You should make it a point that the bins are of various shapes and sizes.
No pesticides
You have to refrain from using pesticides as they kill many of the beneficial bugs along with the harmful ones. They can cause threat to other creatures such as birds, fish and butterfly as well. Instead of spraying poison on your plants, you can use homemade organic pesticides such as orange peel spray, pepper/garlic mixture, nicotine spray, soap spray etc.
Rainwaters
Using rainwater is a smart way to nurture the plants and trees of your garden with care. You should get some rain barrels placed in your garden as placing these barrels is the best, inexpensive and most effortless way of collecting chlorine and mineral free water for your plants.
Native plants
In order to provide your garden with a natural protection from pests as well as the harsh weather you should make it a point to select native plants. Native plants can grow easily in local conditions. You do not have to work too hard on the maintenance of these native plants and trees.
Xeriscaping
Xeriscaping is a good way to upsurge soil integrity and minimize the use of water. It is highly effective as a drought tolerant technique and you are going to find it useful if you have your garden located in a comparatively drier region. Xeriscaping helps you deal with poor water supply issues.
With these viable practices, you can make your garden environment friendly in the true sense and protect it from harm in an organic way. To see that you can take maximum advantage of the aforementioned practices and turn your garden into an environment friendly oasis you need to talk to some lawn care services in your locality.
Kevin Robinson is a passionate blogger. He is in love with writing on home improvement related topics such as on handyman services, air conditioning services,
lawn care services
and other home improvement services so that people can avoid unnecessary hassles.
Want to participate in the Blinds Chalet community?
View details
Post a Comment