Give Your Old Bathroom a New Look with Modern Taps
Jan 11 2013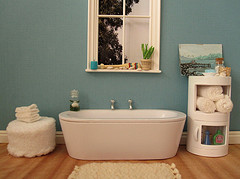 Creating a beautiful bathroom does not have to cost a small fortune. When money for improvements is tight, simply updating a few fixtures and fittings can breathe new life into a tired looking bathroom. One way in which this can be achieved involves replacing old and basic taps with new, more stylish models. The latest offerings combine ingenious functionality and cutting-edge design, so it won't be long before this most important of household rooms is transformed into something a lot more exciting. The latest taps challenge the boundaries of traditional thinking, so homeowners should open up their minds to the possibilities.
Choosing the Best Material
Taps are manufactured from a wide range of materials. As well as the standard materials such as stainless steel, there are some fantastic designs made from other metals such as chrome, brass and nickel. The classic shiny finish to taps is still very much in evidence; however, there are some great designs with brushed or matt finishes that look far more unusual. Choosing the right material is simply a matter of aesthetically charm, as the tap's performance is based on other factors.
Mixer Units or Separate Taps?

For many people, the choice between separate taps or a mixer unit is one that is also based on aesthetic appreciation. However, mixer taps give added control over flow and temperature. Mixer taps are also safer, particularly if there are small children in the home. Separate hot taps have the potential to cause scalds, as they are not always clearly marked. A single lever can control both flow and temperature, and that can be handy whilst shaving or washing. There are also some very attractive two and three lever mixers on the market which allow very subtle changes to water pressure and temperature with one smooth motion.
Once the basic functionality has been decided on, consumers have a huge selection of contemporary styles to choose from. Combining the latest innovations with convenience is standard with many modern designs. A tap's spout is integral to the overall look of the unit, so the design chosen will have an impact on the entire bathroom. Gently curved spouts are found on traditional taps; however, straight spouts are often far more interesting and eye-catching. Choosing unusually designed levers and handles will also ensure that the taps make a real impact to the overall look of the space.
Deciding on the Best Style

Consumers now have an ever-increasing selection of new and innovative designs to choose from, so transforming a bathroom is just a matter of deciding on the best one. Wall-mounted taps provide a real focal point to a bathroom, yet the unusual look of a crosshead mixer provides a truly unique feel to the space. Tall pedestal taps can sometimes include three different levers, and they exude class and elegance when they are finished in chrome. People who really want to cause a stir in the bathroom should consider the stunning waterfall taps on the market, as many of them are manufactured with glass.
Whatever the design, the installation of contemporary taps is often the best way to completely transform a bathroom into something very different. With a huge range of modern designs to choose from, this transformation may be easier than you think.
Jamie Parham has been designing bathrooms for years. He is an interior designer and enjoys sharing his insights and designs on various blogs. Visit
Better Bathrooms
for more information.
Want to participate in the Blinds Chalet community?
View details
Post a Comment